DC Style Factory Style Workshop: How to Look Put Together When You Want to Take it Off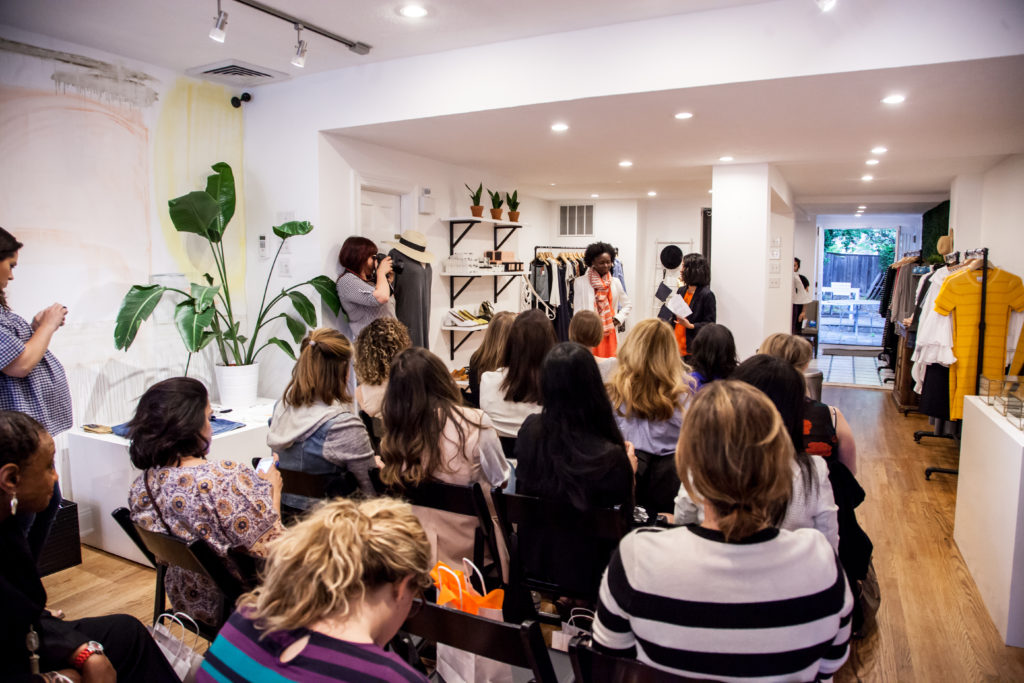 Last week, DC Style Factory was thrilled to partner once again with one of our favorite local boutiques, Lynn Louisa, for a spring/summer style workshop. I usually like to produce and host a workshop once a quarter, but between clients, training new stylists, and managing the daily ins and outs of the business there simply hasn't been time. The last workshop I produced was in November of last year!
Needless to say, I was beyond excited. We like to keep our workshops intimate because we want the event to feel like a conversation. My goal is always to have the women who come out to our events to walk away feeling like they learned from and connected with our stylists. We sold out quickly. I had a blast spending the evening with what I feel is the quintessential DC Style Factory Woman — smart, warm, funny, down-to-earth, and always fabulous.
We featured warm-weather looks, and my talk highlighted some easy ways to stay cool outside this summer and warm inside frigid air-conditioned offices. I talked layering, lightweight scarves, silhouettes that drape or stand off the body instead of hug, and fabrics that flow instead of cling. Our gorgeous models slayed in each look.
Phoebe McPherson of the blog Honestly, Though, wore one of the most popular looks of the evening — navy blue high-waist wide-leg crops and a bell-sleeve blouse accented with orange-red pumps and a side-tie scarf. Several attendees walked away from the evening with pieces from that look.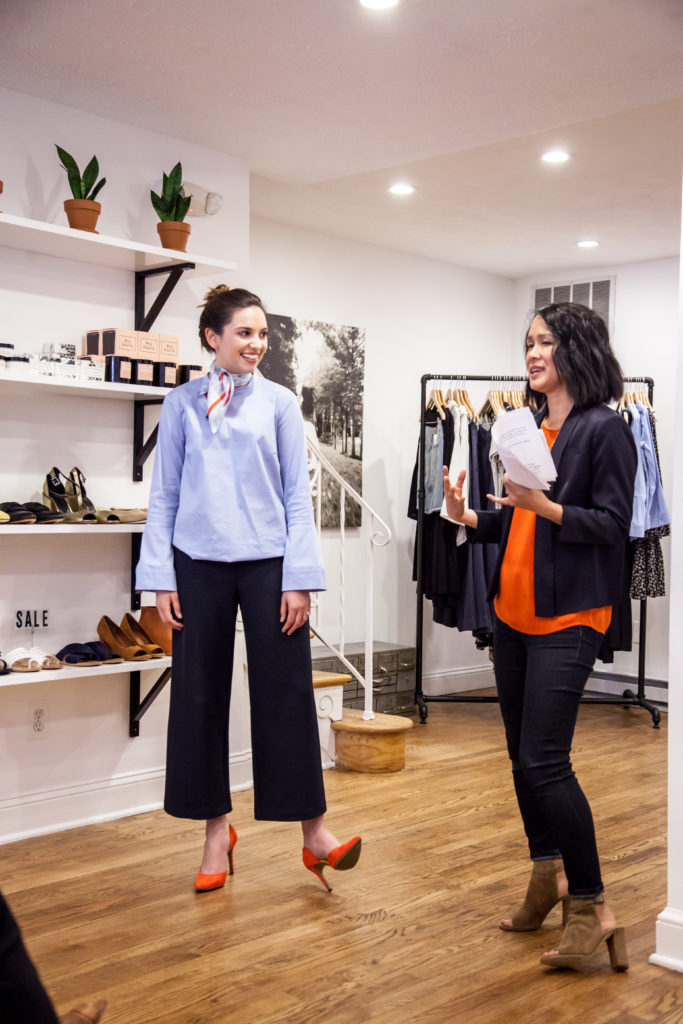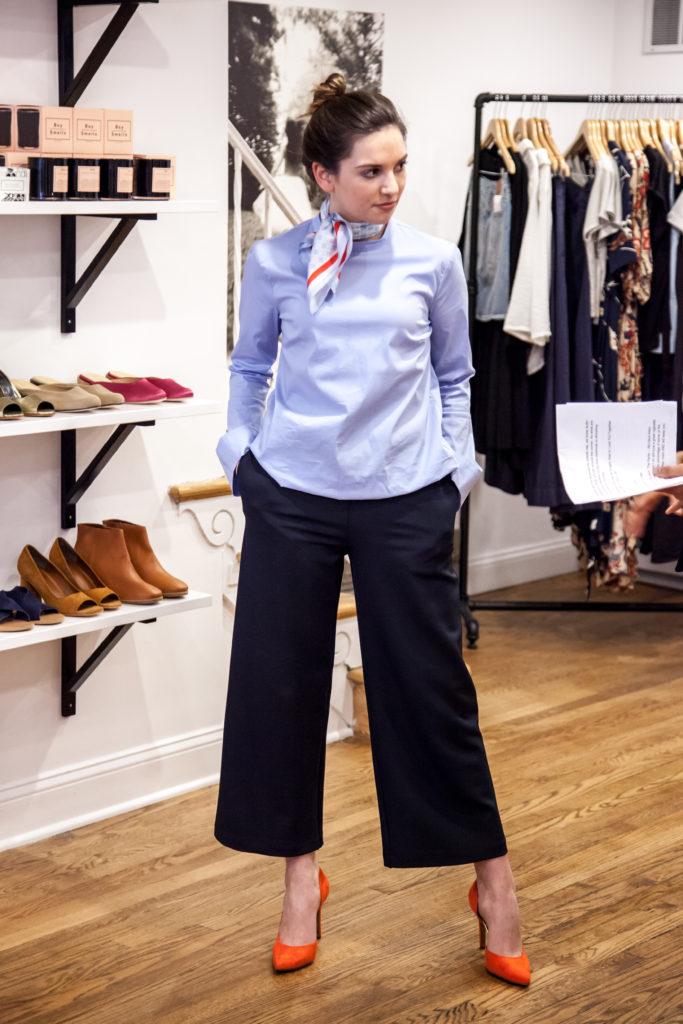 Buki Peters of Style With Buki wowed the group in a pair of marigold kick flares paired with a silk floral buttondown shirt. The key to cropped pants is to pair with a pointy-toe low-contrast shoe (blends with your skin tone) to lengthen your leg line. We then transformed a maxi dress into an office-appropriate fit-and-flare with the help of a belt, scarf and tailored blazer. On the weekend, keep the light-as-air scarf as an accessory; lose the belt, jacket and heels; throw on a pair of your favorite flat strappy sandals.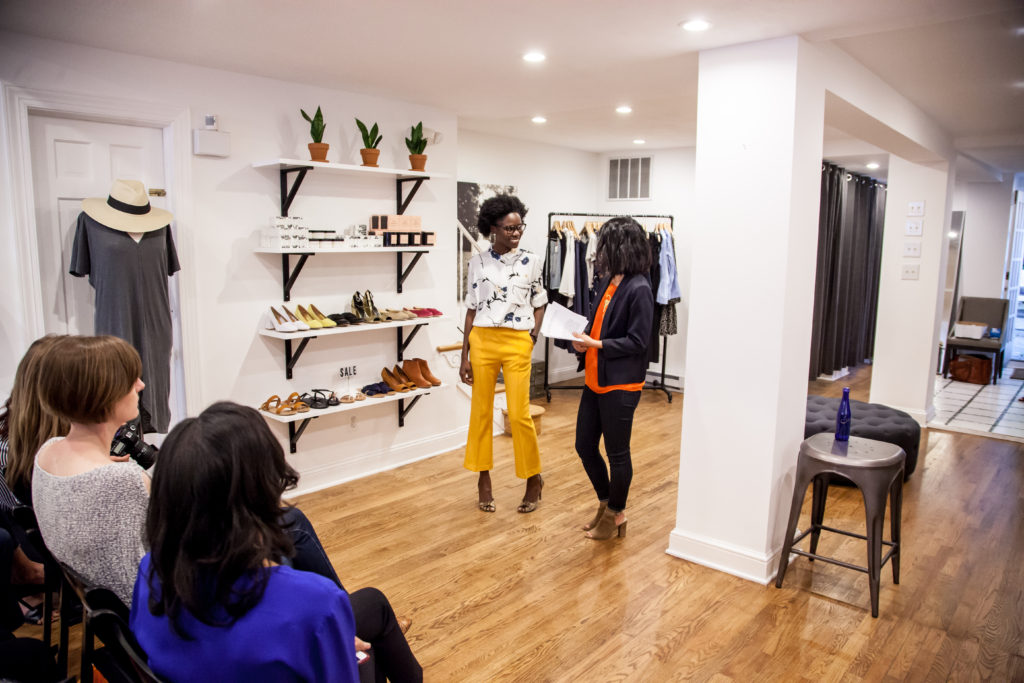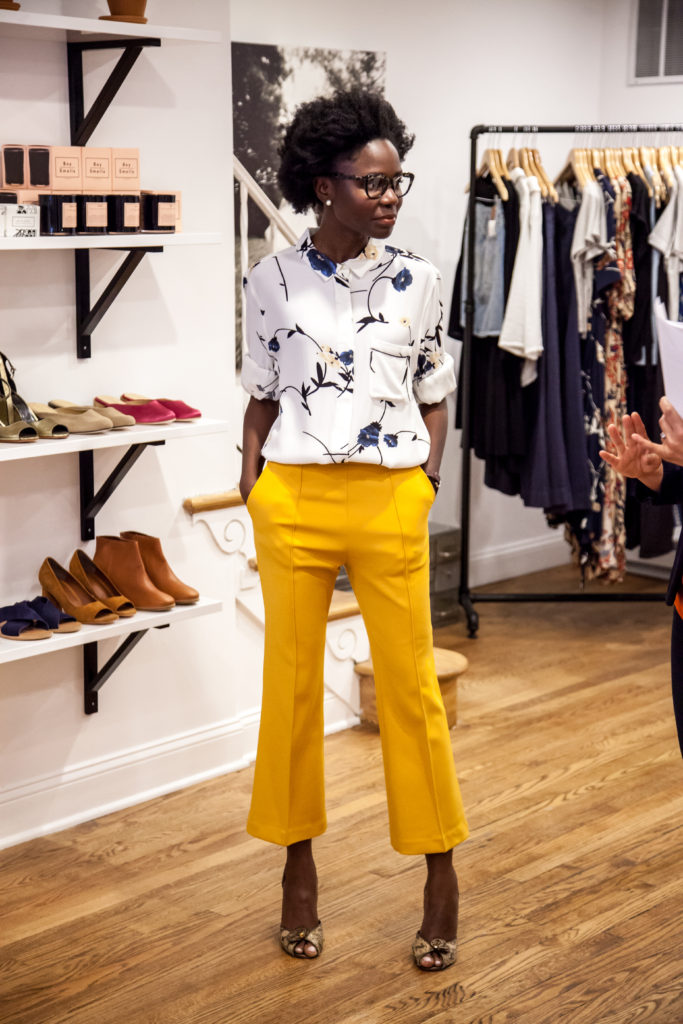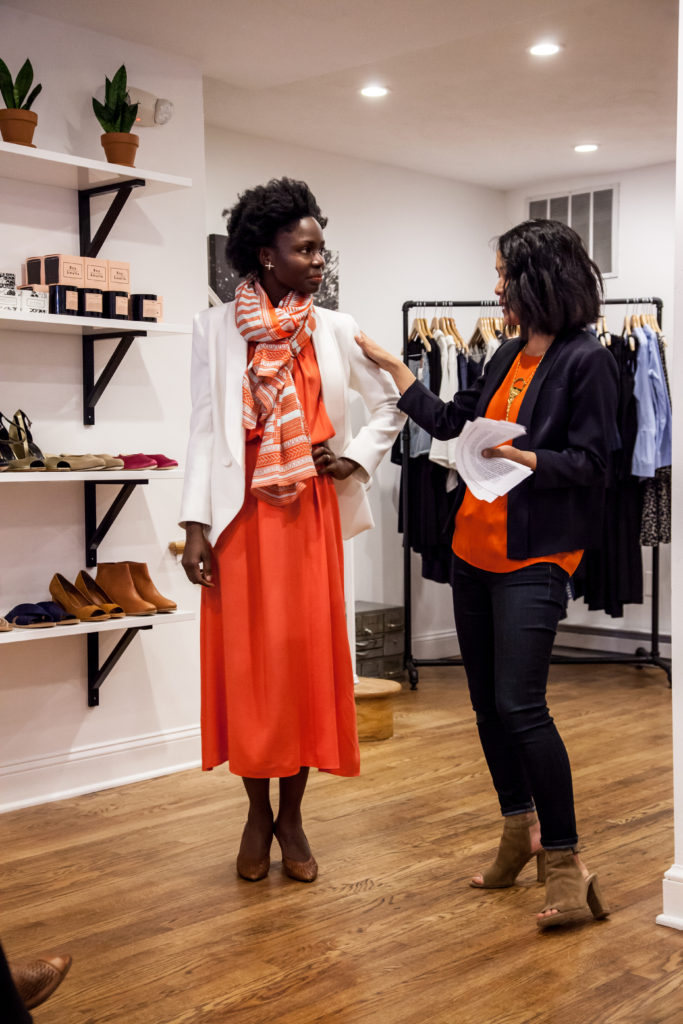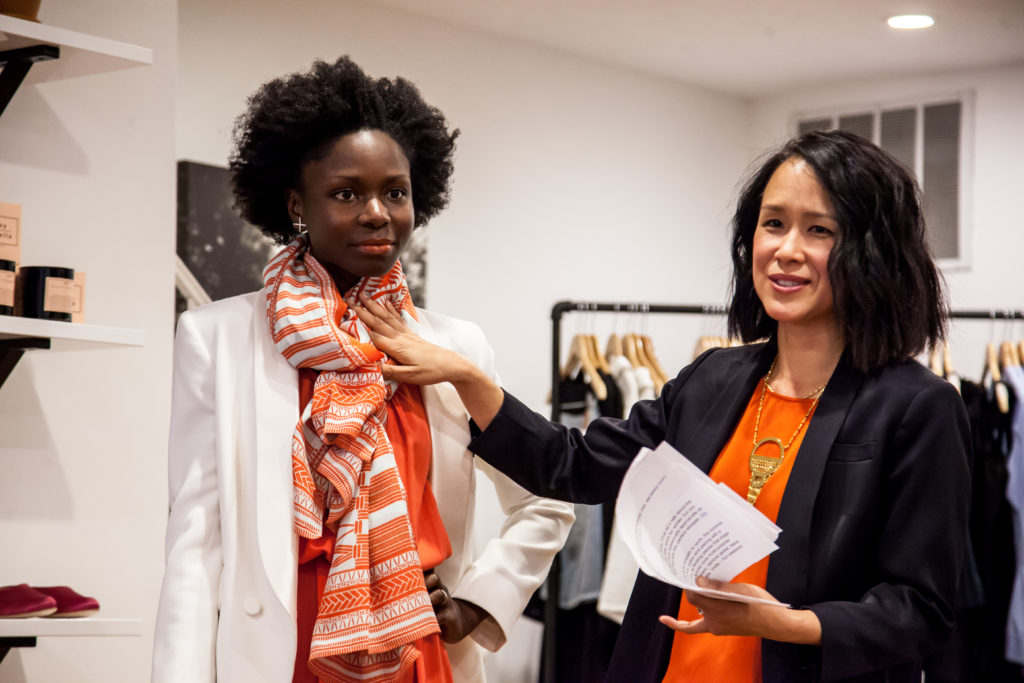 Betsy Garcete of Zophia custom pencil skirts — soon to launch a ready-to-wear line — showcased our go-to"soft jacket" of the season. Instead of selecting a structured piece to finish your look, opt for a rayon or silk jacket that drapes. And, be sure your base layer is dressy enough to stand on its own so if you do remove that jacket outside, your look is still finished. She also wore one of the evening's best layering pieces for warm weather — the belted draped vest. Pair with a pencil skirt for a polished professional look. Layer over a graphic tee with jeans and sandals on the weekend!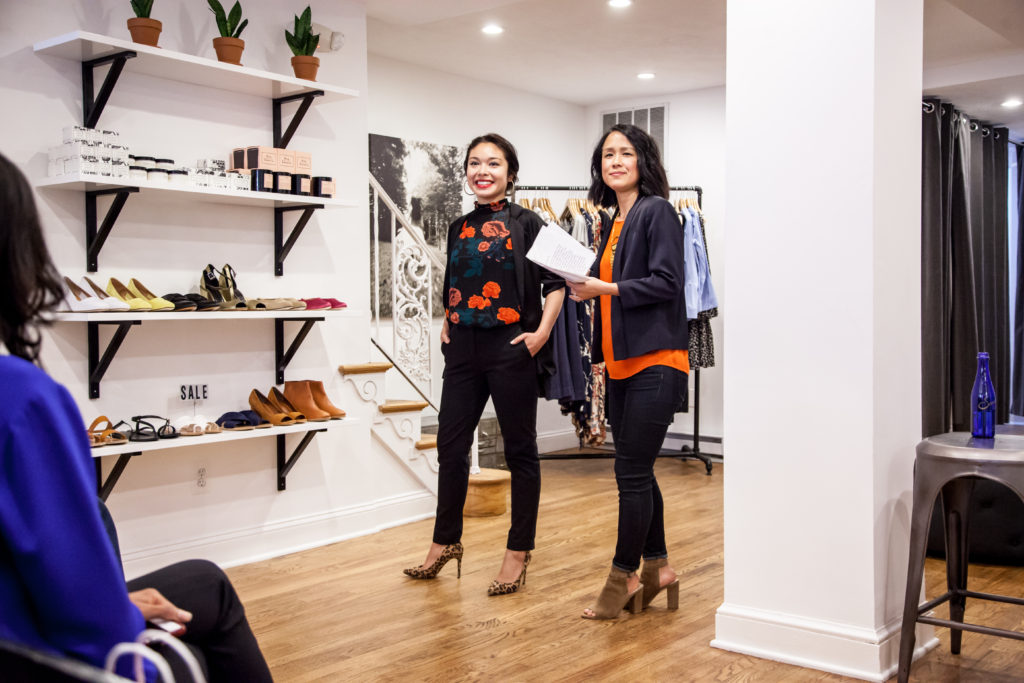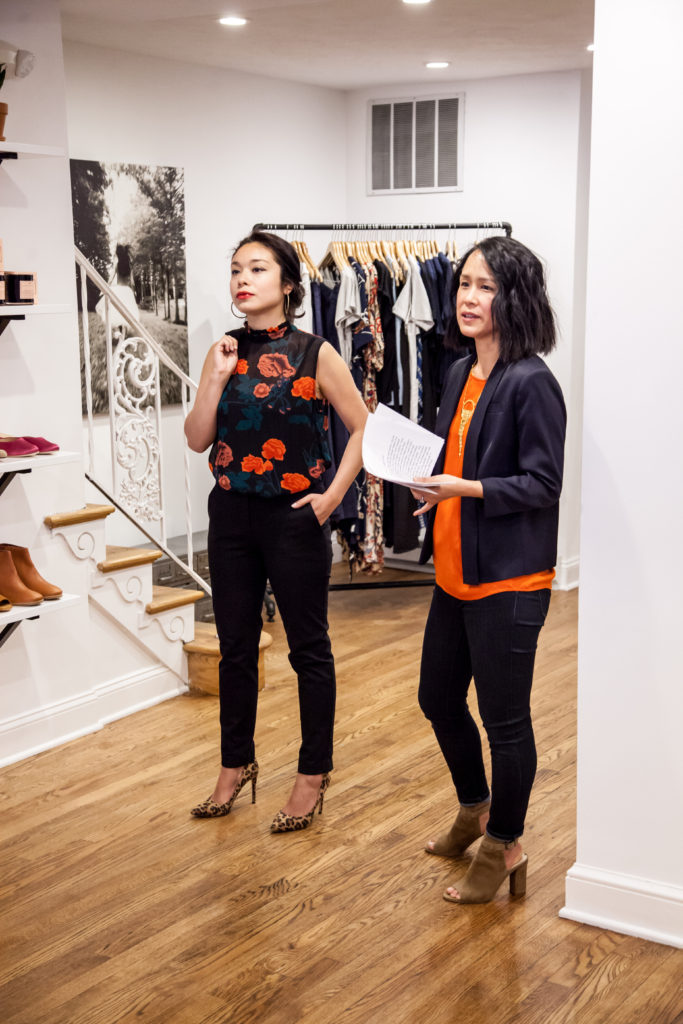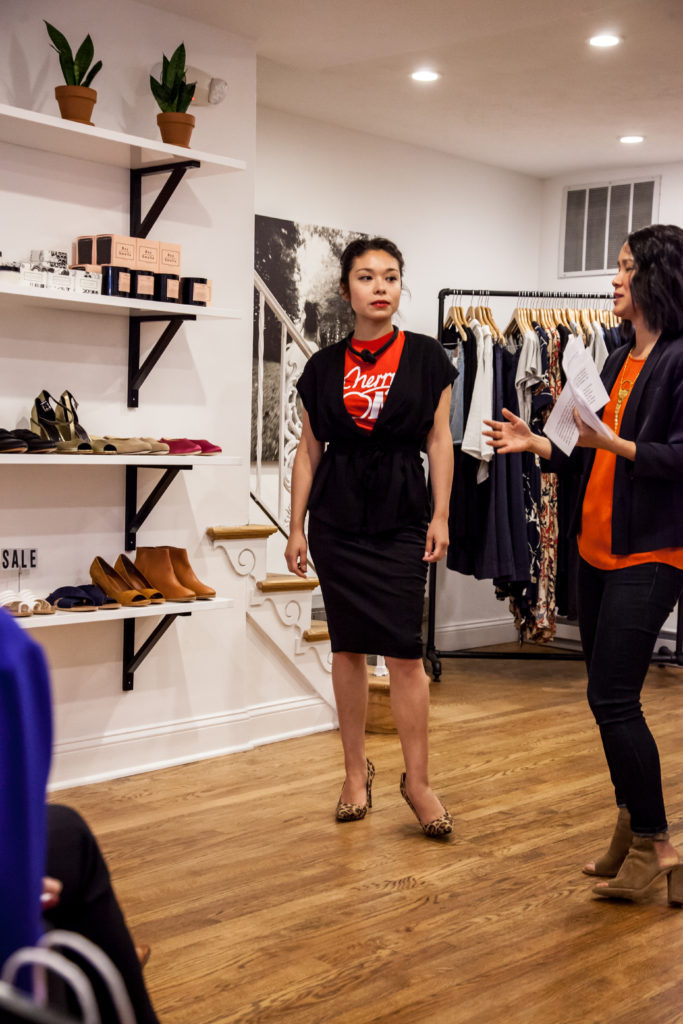 Finally, Phoebe finished the show with the ultimate Boss Lady look — pencil skirt by Zophia, blouse, blazer, heels.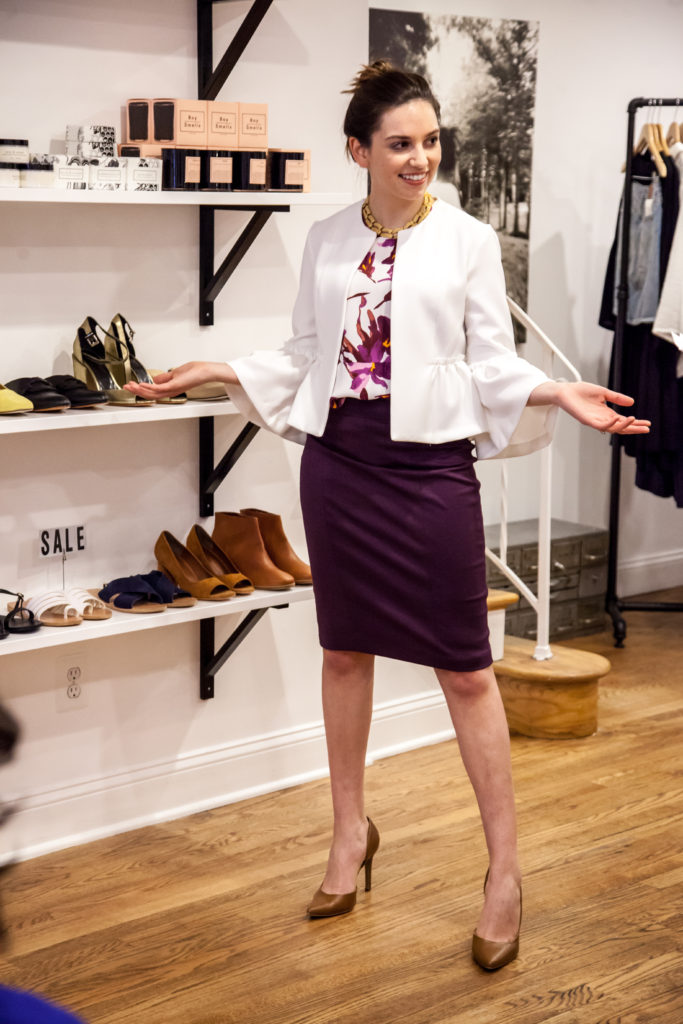 After the presentation, the group got to receive on-on-one pro-styling help from our team of stylists. Marisa, Lenà, Amy and I found perfect pairings for pieces from the presentation, gave the "yay" or "nay" on items they tried on (with useful body-type/silhouette reasons), and laughed — a lot. That is the best part about these events: they truly speak to our company's philosophy. Style and fashion is supposed to to make you smile.