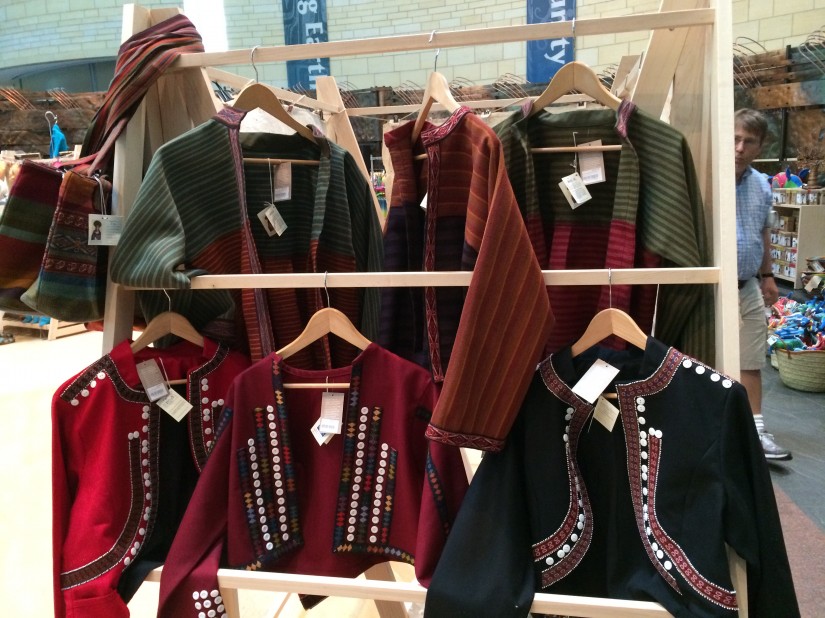 Moroccan carpets woven with abstract black and white patterns; colorful Andean sweaters as warm as the Buenos Aires streets are hot; silky Turkish headscarves that seem straight out of "The Arabian Nights."
When I travel, I tend to stuff my suitcase with such handicrafts — beautiful, tangible, usable pieces that remind me of far-flung times and places without crowding my house or closet with kitschy "I Heart Ocean City" souvenirs.
In her dreamy job of buying and running the Smithsonian Folklife Festival's Marketplace, my friend Jackie Flanagan traveled to Peru (the focus of this year's festival) to indulge in a whirlwind of craft-shopping, artisan-meeting and ceviche-eating. The goods she brought back — delicate silver bracelets, colorful woven jackets, bright bags — headline in the festival's jumbo pop-up shop, open June 24 through 28 and July 1 through 5 inside the Museum of the American Indian . June 30 from 4-5:30 p.m. I'll be at the shop with my pal Anna Kahoe of GoodWood giving a free workshop on how to mix worldly goodies into a modern wardrobe and home.
We'll be showing and telling how to rock colorful alpaca scarves, woven belts and gorgeous table linens.
But indulging in what Flanagan calls "wearable stories" doesn't mean you need to dress up like a folk musician. "I love understanding a piece's cultural significance, but I ultimately see clothing and decorative pieces as colors, shapes and silhouettes," says GoodWood's Kahoe. "Then I can take them out of context, and I don't end up dressed like a character from Disney's It's a Small World ride."
This means pairing a diamond-patterned bag (woven high in the Andes) with a summery white frock from Nordstrom or putting an alpaca poncho with skinny Rag & Bone jeans and booties. "I'm going to try one of the embroidered jackets over a little black dress," says Flanagan. The key is to combine exotic items with crisper, modern pieces, aka the pointy-toed blue leather slippers I scored in a Marrakech souk that I don with white jeans, a graphic T-shirt and a blazer. Call it North Africa-meets-Northwest DC.
At home, you can be a little more freewheeling with pillows, runners and pottery from Peru and other locales. "For me, it's just textiles, textiles, textiles," says Kahoe. For a nomadic, gypsy-cool vibe, you could pile Peruvian woven pillows on a sleek, mid-century sofa that sits on a Turkish kilim rug. Just be sure you choose harmonious shapes and colors.
And, in the end, buying handcrafted items, whether at the Folklife Festival or on your summer vacation to Vietnam, you aren't only making yourself or your pad look good, you're doing good, since the items are fair trade and money often goes straight back to the craftsperson.
"It's the most authentic buy, right?" asks Flanagan. "You close the gap between the maker and the wearer. You know the artisan received most of the cost of the item. The price point may not be the lowest, but pieces crafted by artisans stand up to many years and many wears."
Post by DC Style Factory stylist, Jenn Barger. Check out Jenn and get free, fun style tips on how to incorporate these gorgeous Peruvian pieces into your modern wardrobe. She will be at the Folklife Festival Marketplace on  Tuesday, June 30 from 4-5:30. The marketplace will be located in the Potomac Atrium on the first floor of the National Museum of the American Indian.
Jenn has more than 15 years of experience working as a fashion and design journalist in the nation's capitol, including serving as the founding editor in chief of the Washington Post's FW magazine. Today she works with DC Style Factory clients, injecting polish and personality into their wardrobes. You can read more about her on our website. To book a style consult, email Jenn at [email protected].