Style Diary: Last-Minute Dress Shopping from DC to Chicago
Sometimes my job throws me curveballs.
I started working with a new client this summer — a 40-something "desperate Washingtonian real-size woman." We did an initial consult on her closet and then booked a shopping trip. She was "cusp size," which means a straight size 14 or 16 is often snug (along her bustline mainly), but a 16W or 18W are then often roomy. Took some creative maneuvering but we got her what she needed before her move to her new home in Alexandria. She was thrilled. I was thrilled. We laughed. We hugged. I sent her on her merry sartorial way.
Then I got an email from her with "Semi Emergency" in the subject line. In the midst of moving, shopping for work clothing, etc., she had forgotten that she hated her formal party dress options. And she had a wedding. That Saturday. In Chicago. Flight Thursday…and it was Monday.
"No problem!" I cheerily emailed her. I started strategizing how I would make this work on a tight time frame with what I knew would be slim pickings during this mid-summer season.
First step — local. I went and scouted Nordstrom and a few other retailers. The plan was to put on hold dresses for her to try on by herself after work.
As I guessed — slim pickings. Nothing spoke to me and, knowing her personal style, I knew she would NOT be happy with the selection. No-go on the local stuff. We would have to take this search online and do some overnighting. We went on ASOS and founds some great options on ASOS Curve that fit her style.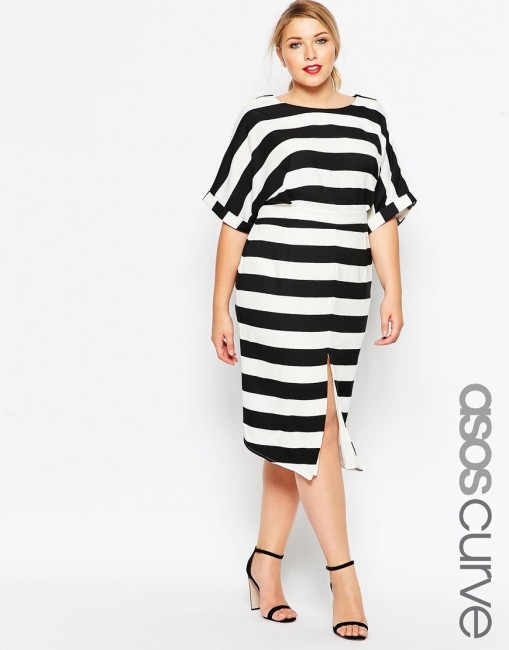 She loved the ASOS dresses. I told her to order stat!
ASOS is in England so we were going to be cutting things rather close. But, she was game for doing the overnight shipping. Except…in ASOS terms that actually takes four days (buyer beware).
Back to the drawing board. Time was ticking. She would be boarding a plane soon and there was no time left to order or scrounge up a local dress that she would be "meh" about anyhow.
The Nordstrom in downtown Chicago is pretty spectacular so I decided to figure out how to get some stylish eyes out there to help me secure some dresses for my client to try on.
I texted my bestie.
"Help. Client traveling to Chicago for wedding. Stop. Can you head to Nordstrom and look at dresses? Stop. I will send you pictures of what we want, plus sizing and body-type specifics. Please say, "yes." Stop."
My friend Rachel is stylish. I mean she is in a cool indie rock band out in Chicago with her husband. Truth be told, she keeps ME hip. But, she hasn't worked with styling individuals, body types, etc. I knew I would need to give her  specifics about my client, tell her what departments to go to, and have her send me pictures. I sent her pictures of some of the ASOS dresses my client really liked. I knew keeping it simple was key. We were on a tight time frame and would need to just get the fit and silhouette right. No party dress bells and whistles.
Understated chic was going to the name of this style game.
I texted my client and told her I had someone in Chicago that was going to pull dresses for her to try on Friday morning before her friend's wedding on Saturday.
"You are my hero!" she wrote back. Well…I haven't found the dress yet, I wanted to tell her. Don't count your chickens, right? But I am a professional. As in a PRO-fessional shopper. Which means I get it done. No matter what. There is no crying in professional shopping… or giving up.
The search was on. It was early evening, and I was at the pool with my kids when pictures started streaming in from Rachel:
We found a few promising dresses at Nordstrom. Pretty simple LBDs. Silhouettes looked good. Had Rachel put them on hold and let my client know exactly where to pick up.
Friday morning I messaged my client: "Up and at 'em!" (Yes, I can also be a style drill sergeant). I wanted to make sure she had a least a couple of dresses to choose from by that afternoon. The wedding was the next day! She messaged me that she was on her way, and I waited in nervous anticipation for her texts.
Tick, tick, tick.
Tick, tick, tick.
Fingers crossed. Sweating. Please let this work. Please let this work. Please let this work.
First picture came through…with this message:
"PERFECT FIT. UNBELIEVABLE."
Hallelujah!!
She paired her new LBD,  with a fun cape-like detail around the arms, with Franco Sarto wedges we had purchased for her during our DC shopping excursion. My client went to her friend's wedding and felt beautiful.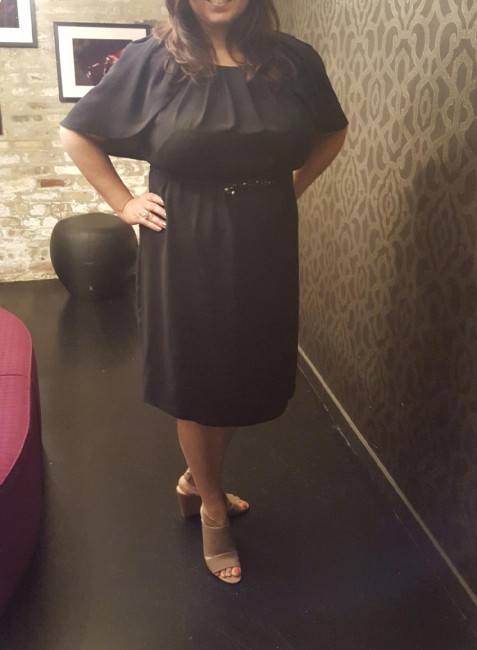 And me? I lit a candle for the style gods…and ate a bag of (celebratory) cookies.