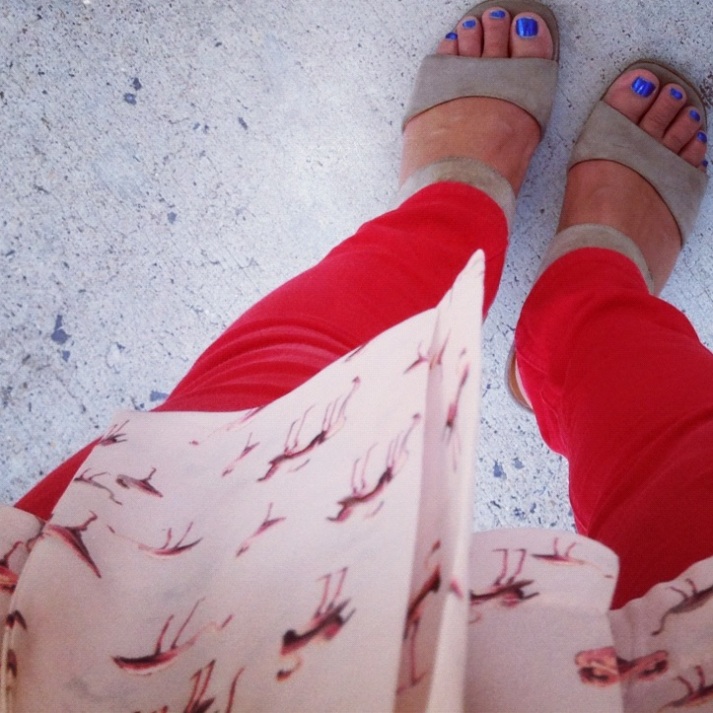 I went shopping with a client today for shoes. A mom. She wanted heels, but they had to make sense. In other words, although she had Louboutins in her closet, they sat there because she had to take a triple dose of Ibuprofen just to get through a few hours in them.
It made me think about my shoe choices as well.  I'm not 25. I'm not single. I'm not out clubbin' 'til the break-a, break-a dawn. I'm married. I'm a mom - of three little kids.  Things have got to make sense for my life. Today. And the most important part of that fashion equation are the shoes. Because they have to, have to, have to be comfortable. Even on date night or a weekend away with just the hubs, they cannot hurt. I've got enough stuff going on in my life and the last thing I need or want is pain in my feet.
Even if they are high — I have to be able to walk in them for more than 15 minutes without crying out in agony. And let's be honest — they can't be that high (unless maybe if they are wedges with a platform). 
The brands that I find to be the most fail-proof comfy and cute don't come cheap (Chie Mihara, Paul Green). But then again, at this age, my feet deserve lovin'. And if you look at cost-per-wear, these bad boys have already paid for themselves. Piperlime also has an entire section dedicated to comfort - many under $100.
For me, it's been all about my Paul Green velcro-strap (yes! velcro! no buckle!!) grey suede Leanna sandals. They have been taking quite the beating, but keep on keepin' on.  And at this time of year,  they are on sale (but no longer available in the grey)!  The strap is low on the ankle more like the top of my foot so it doesn't create the "cankle effect" on already short legs (ankle straps will do that to anyone…even those most svelte supermodel creature). Plus, the grey neutral sort of just blends, lengthening the leg line.
The Paul Green Lewis sandal in the coffee shade is also another great option.
So, if you are like me and your feet just can't take four inches anymore, don't be afraid to get real with your shoes…and put that Ibuprofen away.