Travel Style: What I Packed for Thailand and Lessons Learned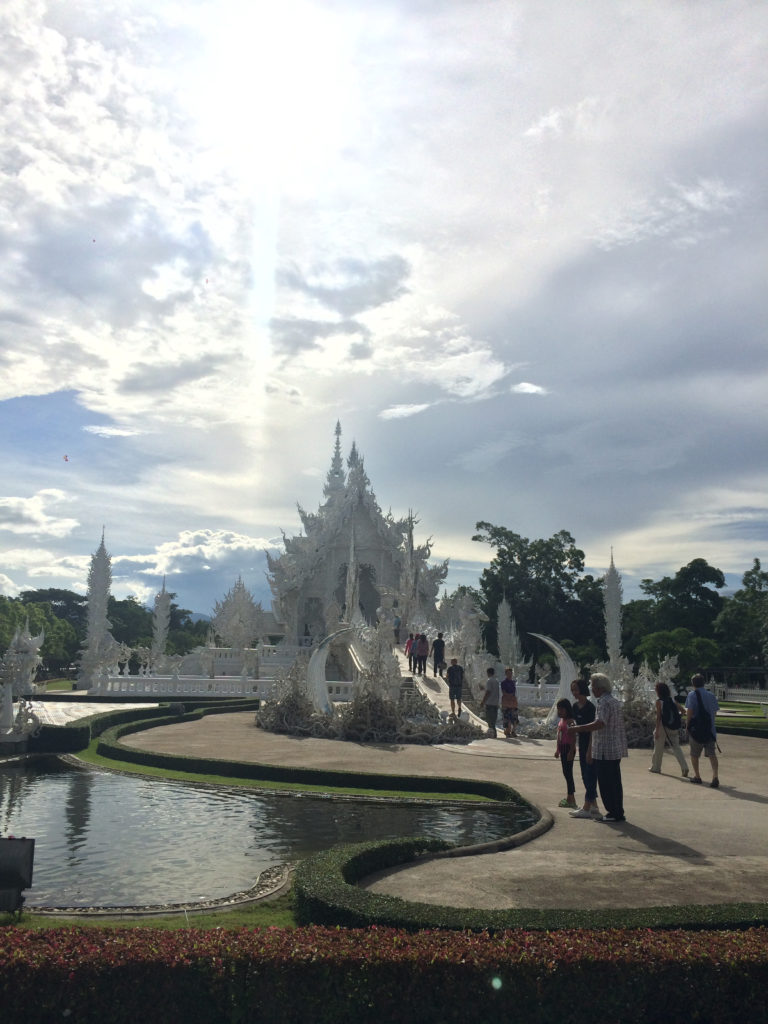 Last week I returned from an epic, month-long trip to Thailand. My parents and brother live in Bangkok so every other year all five of us board a plane for a 24-hour flight  to the other side of the world.
When we make this journey, the first big step is the packing. It can feel overwhelming thinking of what you need for a month away from home.  The last few times have been much easier since my children are older and, with direction, can pack their own bags. This leaves me free to worry just about my own suitcase.
After decades of doing it, you'd think I'd have it completely down to a science and error-free. But, each time, I learn something new because my tastes has changed, my body has changed, my style has shifted, and our lifestyle and travel needs have changed. And, sometimes our trip's activities are a little different. Last time we went to Thailand as a family, I had a toddler that was still partially in a stroller and we stopped in Tokyo for four days before continuing to Thailand. When we arrived in Thailand, most of our time was in Bangkok.
This time, we would be headed straight for Thailand and traveling down south to the islands, up north to the mountains and then exploring Bangkok with family. I got to work packing for a month away from home.
*Disclaimer: This post is equally epic.
What I Packed
I don't pack from long trips until a couple days before we leave. The reason is I want to make sure I do all laundry before packing, and I don't want to pack away something I suddenly need to wear.  Before I start packing, I look at four major criteria:
Climate
Activities
Laundry situation
Any special events during trip
Thailand is tropical so I knew I would not need any layering. We were going to do two-piece dressing all the way. I also knew that even though it is hot, Thailand also has mosquitos so I didn't want all my clothing to expose so much skin. Lightweight clothing, yes, but with coverage to protect from climate and insects.
Since our kids are also now older now, we planned more adventurous outdoor activities. We are talking beach, waterfalls, temples, city sidewalks and more — the full range.  I thought about functionality of my clothing first and foremost: pieces that are good trudging around a hot, dusty city AND hiking up a jungle mountain.
We would be able to do laundry, particularly when we got back to our home base in Bangkok, but I wanted to pack enough that I would not have to do laundry constantly. Also, since it is hot in Thailand, we are sweating. Like not just a little perspiration…we are talking full-on buckets of sweat. I had to bank of the fact that I wouldn't be wearing a whole lot twice. However, denim and some heavier twill fabrics — with some airing — could be worn twice if needed.
We had no formal events during this trip. We have been in Thailand before where we had a wedding to attend and had to pack accordingly. This time, though, it would be ultra-casual all the way.
I then packed in this order:
Shoes — They are the heaviest items you will bring and there is a 50-lb weight limit on luggage for international travel. Plus, if you bring the wrong clothes, you usually can make do, but if you bring the wrong shoes, you may be out of luck. I brought sneakers for hiking and outdoor activities; one pair of tan sandals, one of of black sandals, one pair of rubber slides (my trusty Adidas pair), and one pair of pointy-toe flats just in case I needed to dress up my boyfriend jeans for a family dinner.
Bottoms — I brought 10 days worth of shorts and breathable pants like jersey pants, twill pants, linen and one pair of lightweight boyfriend jeans.
Tops — I used to bring t-shirts, t-shirts and more t-shirts. These days, I do bring jersey, but in more stylish silhouettes. Even if I am dressed down, I feel more put together in a boatneck jersey top than a shortsleeve, crewneck tee. I brought a mix of jersey, linen and cotton tops to last 2 1/2 weeks (17 tops). It's not uncommon in hot climates to shower and change multiple times a day.
One pieces (dresses) — I always pack a few dresses, mostly casual ones.
Accessories — I leave my wedding and engagement rings at home on travel. Any really precious jewelry I don't bring with. In terms of accessorizing, just my basic short chain necklace with my kids initials on it and one pair of earrings.
PJs, underwear, etc. - I literally bring all my underwear.
I pack just enough color and print to keep things interesting, but keep things mostly neutral so I can easily grab, mix-and-match and go.
There are so many tutorials on how to pack. I have folded sometimes, rolled others. This time, I went with rolling. I was not just packing for one trip. I was packing for one trip broken up into several smaller trips.  I wanted to be able to grab items from our large international suitcases and re-pack into the smaller bags for our 3- to 4-day jaunts around the country.
What We Did and What I Wore
Krabi, Thailand
We hopped around Thailand from the minute we landed to the minute we left. The trip was definitely an adventure …not a kick-back, unwind vacation. Our clothing had to be breathable, versatile, casual and ready to take on some outdoor activity.
Our first stop was Krabi — a lush island region located in southern Thailand. Krabi is filled with jungles, limestone cliffs and dreamy isles floating  just offshore in the Andaman Sea. Activities included snorkeling, scuba diving, boat trips, world-famous rock climbing, beach lounging and more.
This part of our trip was our most luxurious. We stayed at at the Sofitel Krabi, a stunning resort nestled away from the bustle of the town near the ocean.
I mainly lived in my bathing suit and a coverup during this trip — with some periodic changes into shorts, tees and my rubber slides. For our "dressier" dinners, I changed into linen or jersey pants, my favorite Madewell flat sandals and a tank.
Lessons learned:
Be honest about what you feel most comfortable wearing. An easy, flowy dress would have work for casual dinners as well, but I have come to realize that if I have lightweight pants or shorts — I will always grab those before a dress. It's a personal preference, but one that I noted this time. I really didn't need to pack dresses. They went untouched.
My linen pants and flat sandals were my favorite for dinners out. The older I get, the more I come to appreciate my linen pants for resort-wear versus a cute dress. It may be my age, but  I feel sophisticated in them with flat strappy sandals and a loose/half-talked tank.
Sunblock is not enough when you are this close to the equator. Pack a hat and wear it whenever possible.
Bring water everywhere. It's easy to forget, but hydration in a hot climate is key.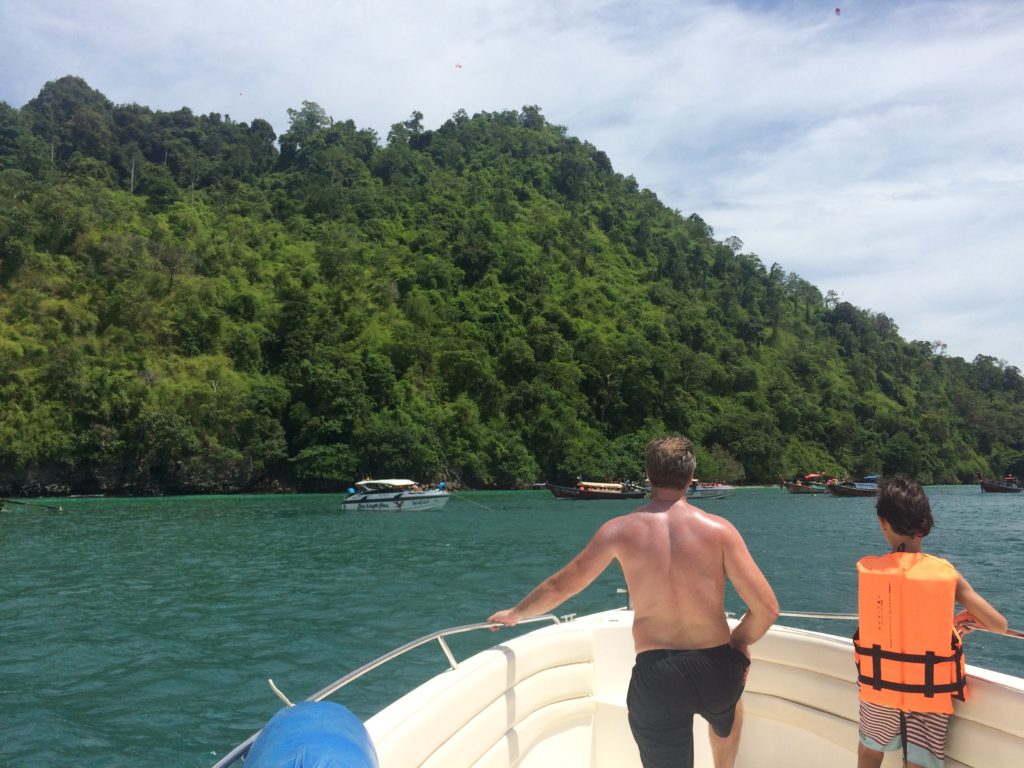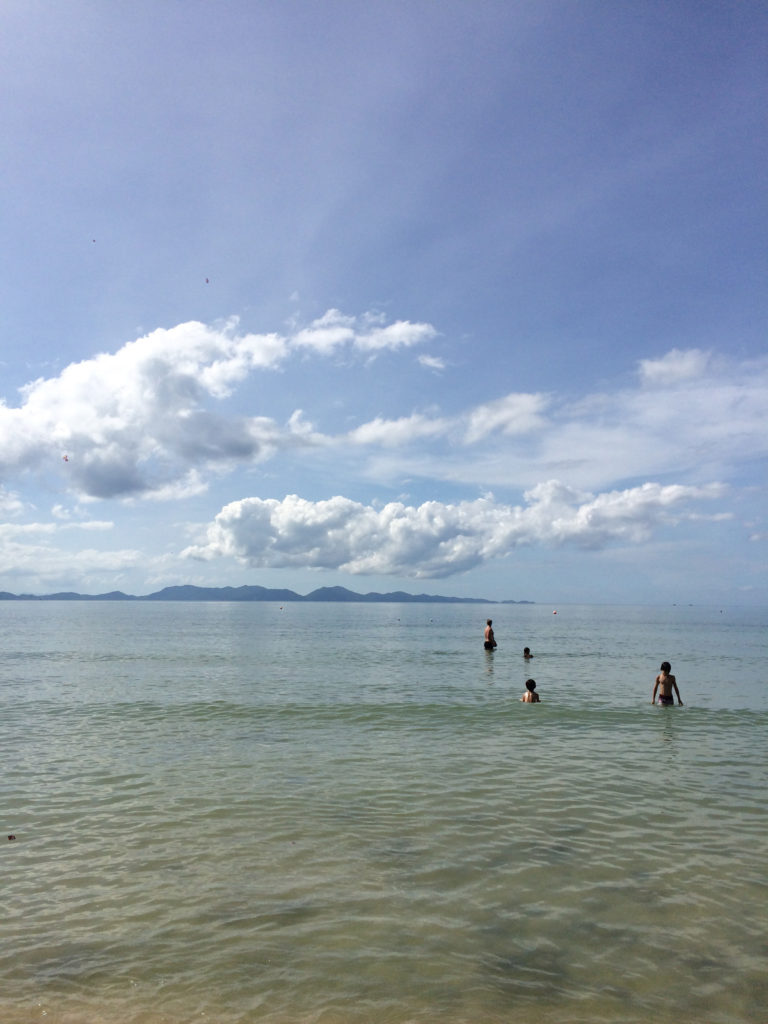 Chiang Rai, Thailand
Our second stop was up north to the mountains of Chiang Rai. This part of our trip included a smorgasbord of outdoor activities including zip lining, hiking through the jungle (swamp butt in effect!), swimming in a waterfall and more. For this trip, I needed outdoor shoes, pants, shorts and some casual dinner outfits.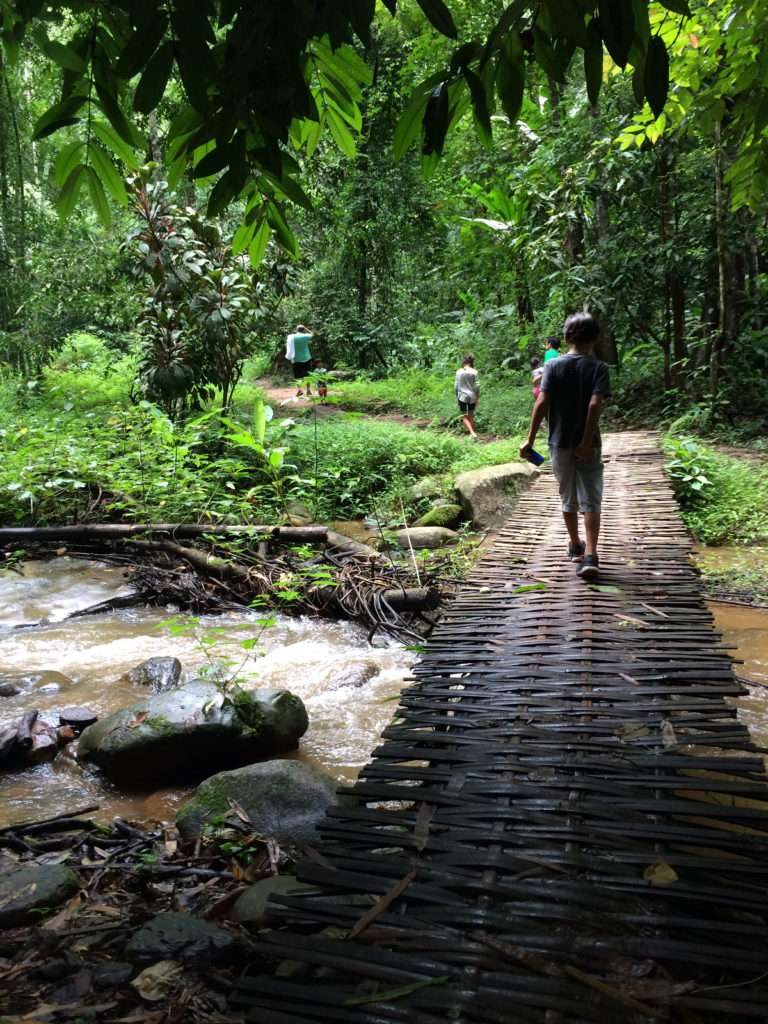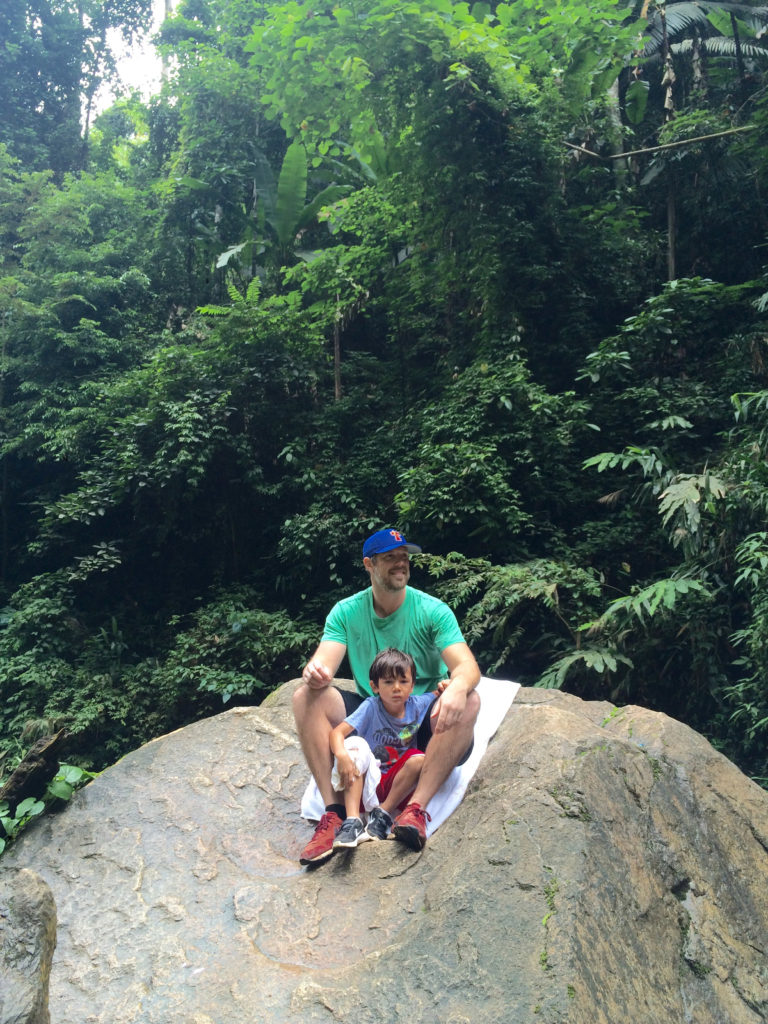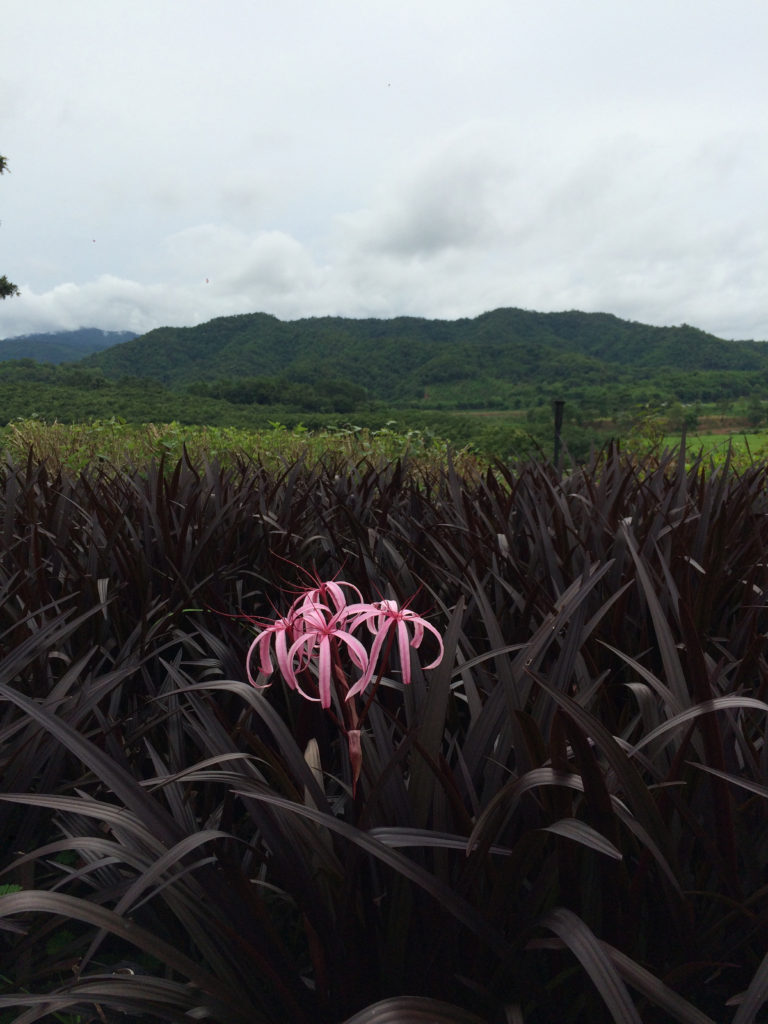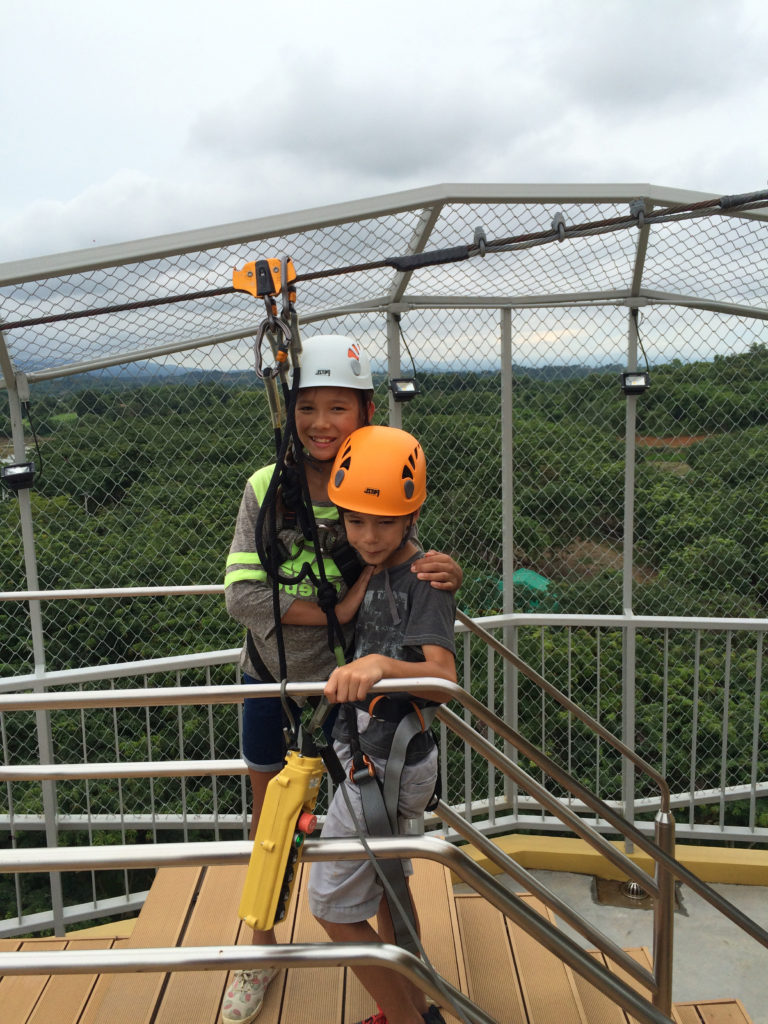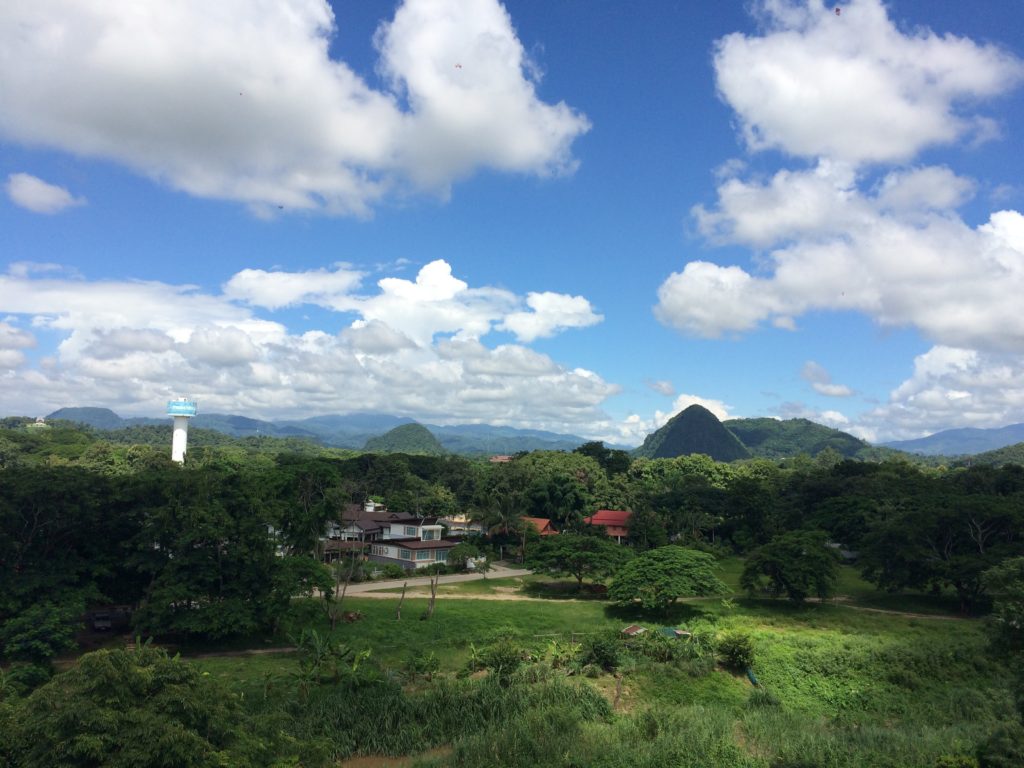 Lessons learned:
Don't wear shorts hiking in a jungle. Because it's so buggy, coverage is key — even around your head.
Rolling when packing my large suitcase was a lifesaver. When we got back to our condo in Bangkok, I was easily able to pull out dirty clothes from Krabi in our small carryons. I then pulled out rolled, clean garments from the larger suitcases and quickly re-packed for Chiang Rai. I could easily see what we needed without having to disrupt and dig through our giant international suitcases.
Bring water everywhere. See lessons from Krabi.
Chonburi, Bangkok and more
Our remaining adventures after Krabi and Chiang Rai included the Erawan  Waterfalls (a 3-hour drive outside Bangkok),  Kao Kiew safari-style zoo (an hour-and-a-half outside Bangkok) and various and sundry city activities. All required comfortable, casual, durable clothing.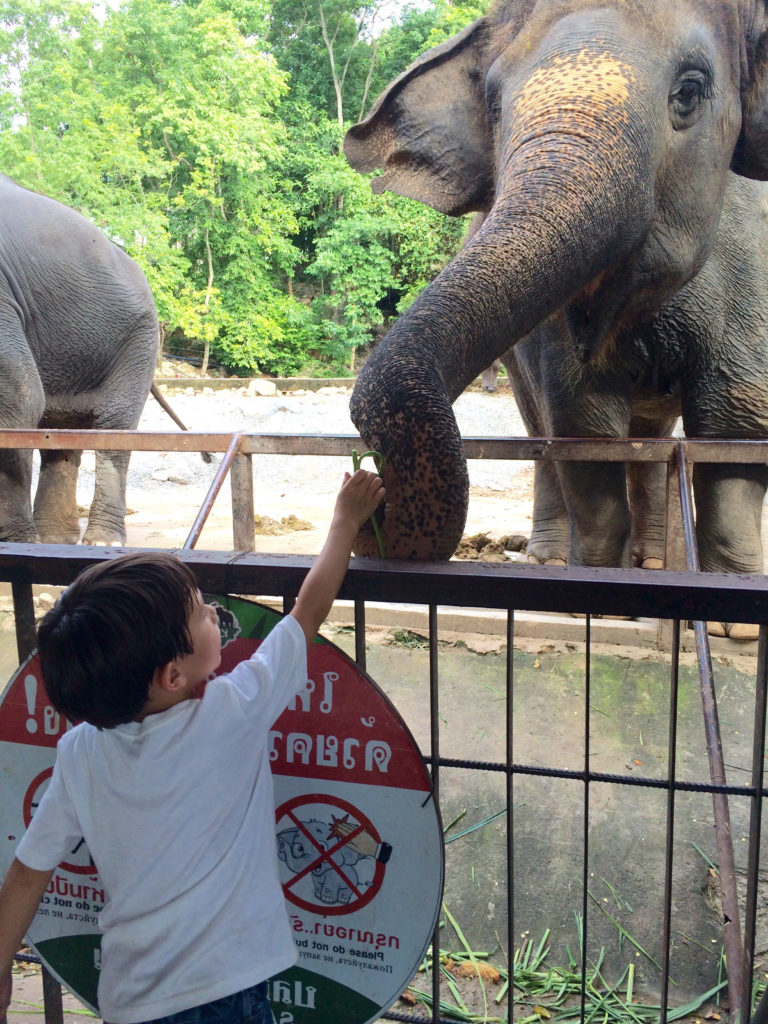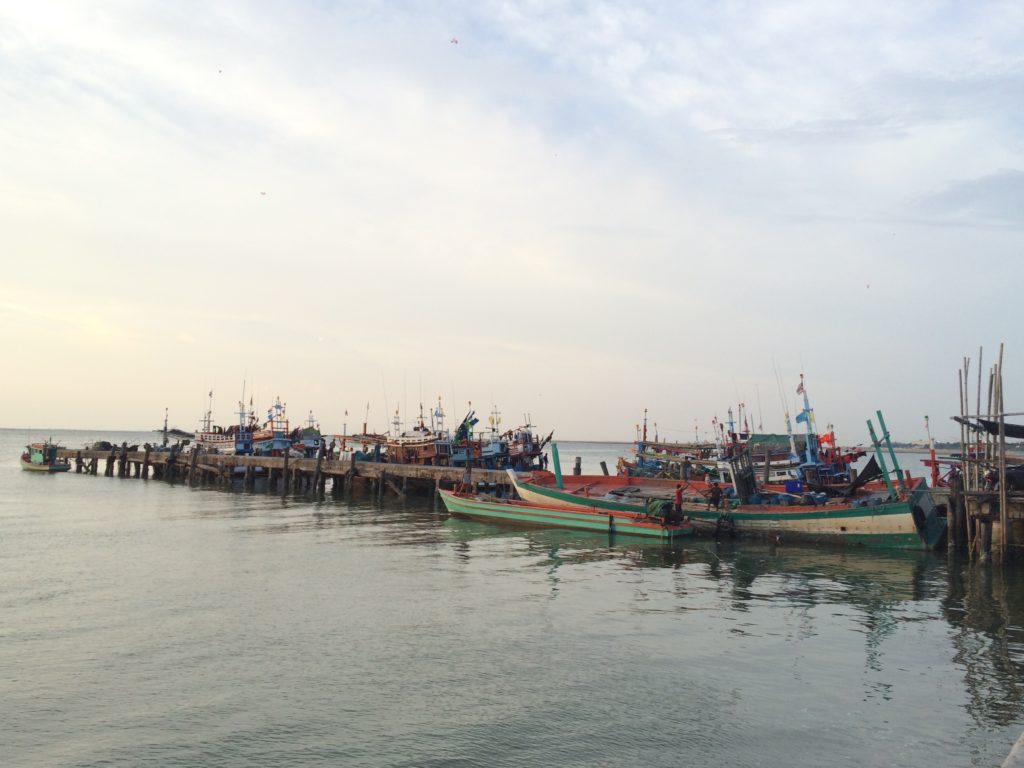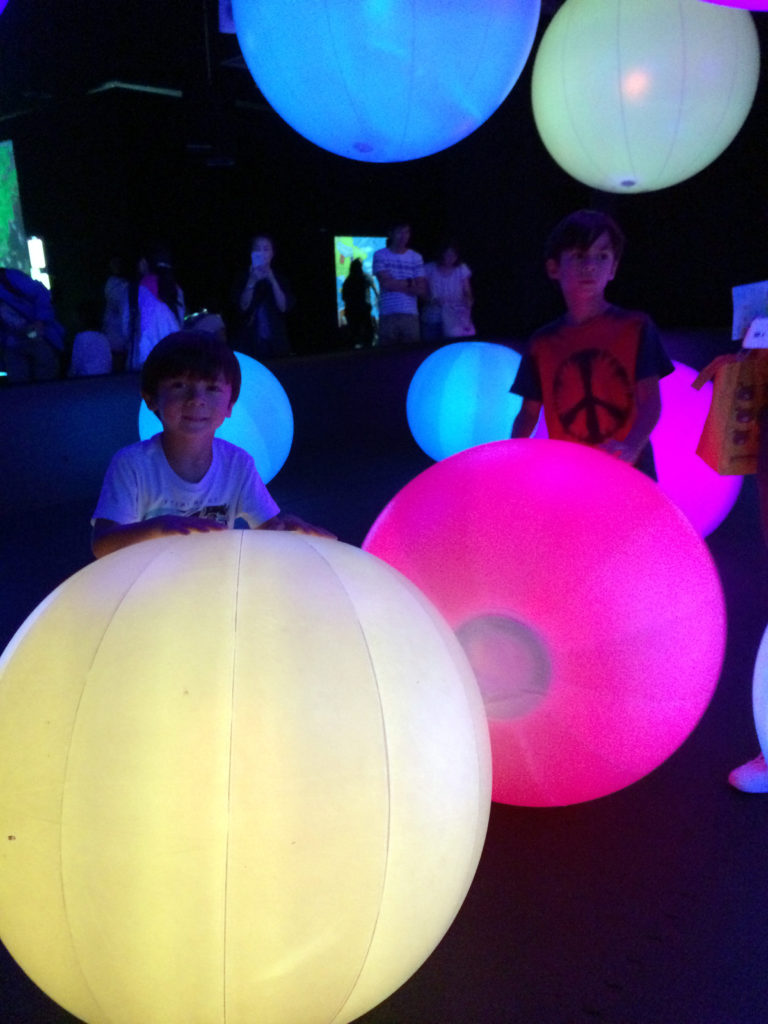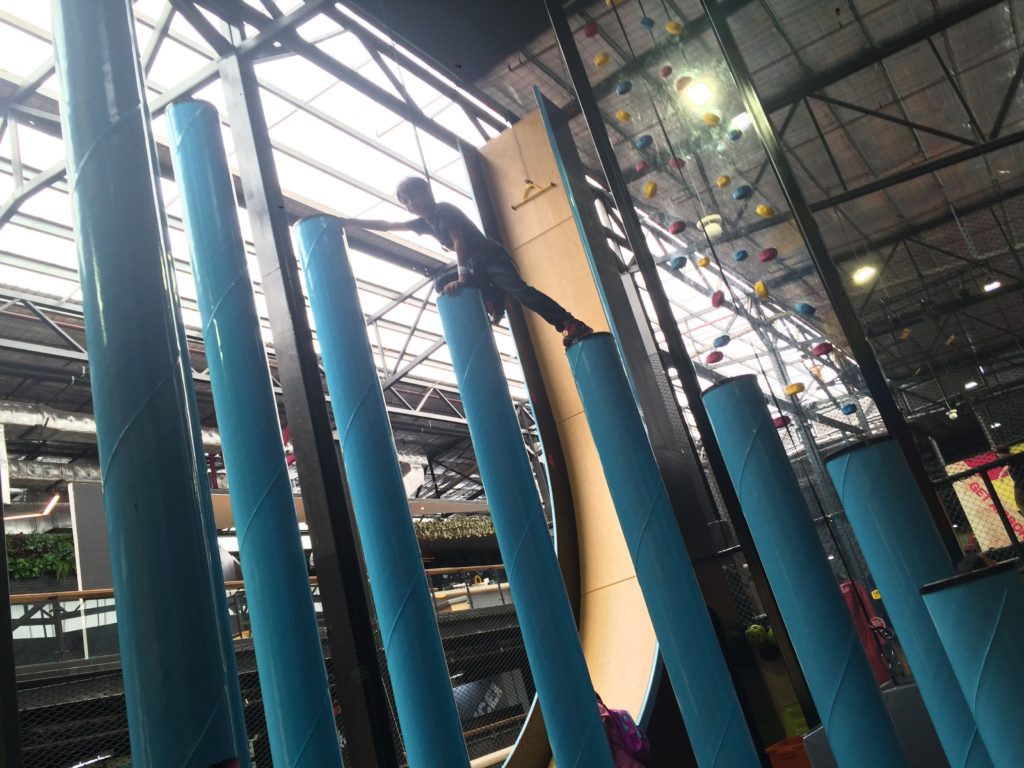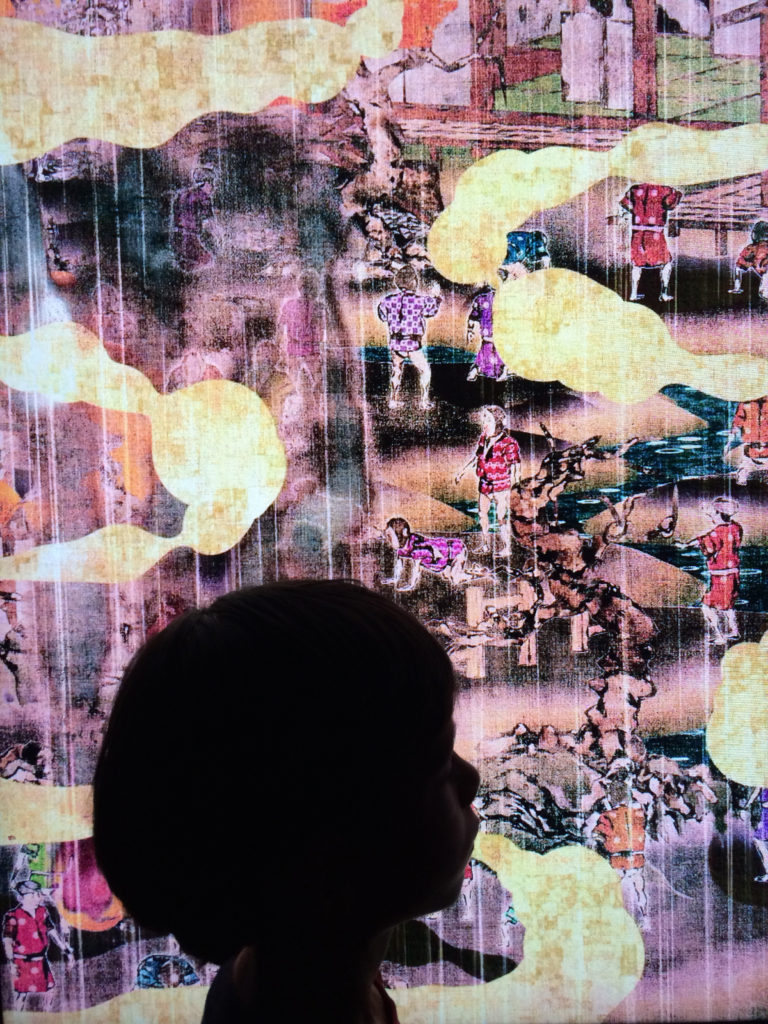 Lessons learned:
Wear shoes with some support when you are embarking on a trip like this. Trust me, you'll thank me later. My Madewell sandals worked most of the time except on extra-long days walking.
The last two times I traveled to Thailand, I have packed Woolite and done some hand-washing of items I normally would send to drycleaners. My Woolite came in might handy on this trip. Some pieces I just didn't trust to have laundered, I simply soaked and quickly hand washed. The sun is so strong in Thailand, air drying is a quick and easy process.
Bring water everywhere. See lessons learned from Krabi and Chiang Rai
Travel Style MVPs
There were certain pieces that I wore nonstop whether I was on an island, in the jungle or in the city. They just really met every need for me on this active trip.
Boyfriend jeans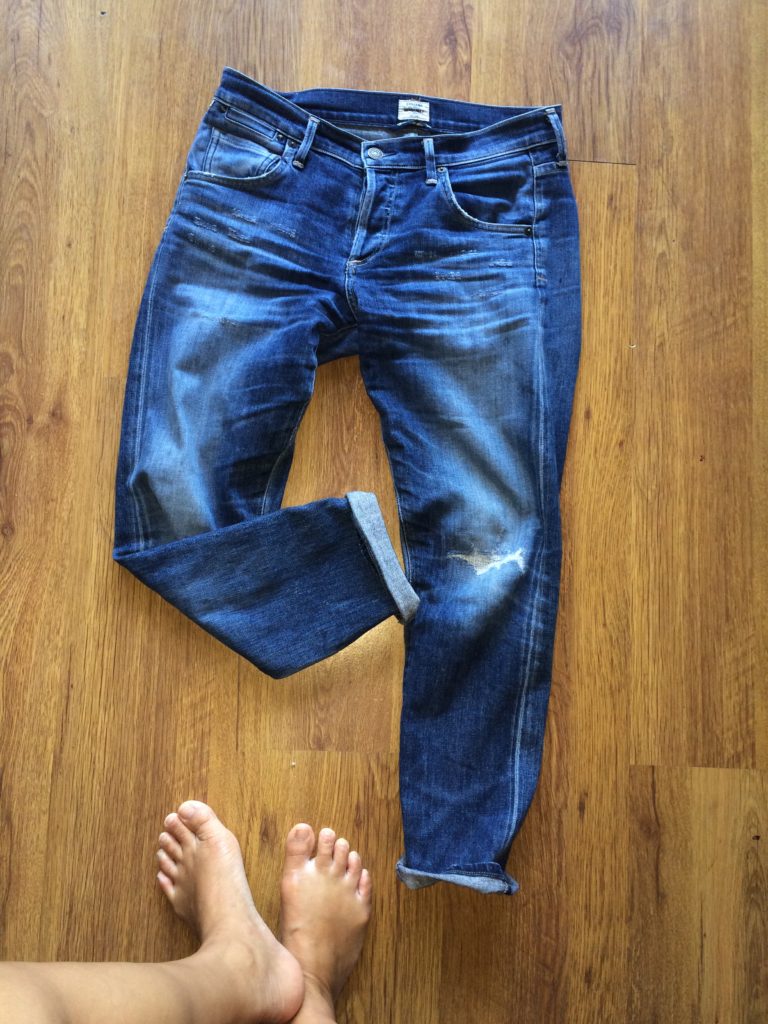 I know what you are thinking…jeans? In hot weather? Yes. This particular Citizens pair (similar here) is lightweight loose enough for the warm temps. They were the only pair of jeans I brought with me. I mostly wore them when we were in the city, but they were great also for hiking, zip lining and more.  I also wore them to almost every casual dinner out. Mosquitos are plentiful in Thailand, particularly when the sun goes down. Wearing longer pants is a must if you don't want to get eaten up.
I wore them with sneakers, slides, and flat strappy sandals. The only place I did not wear them repeatedly was on the islands in Krabi.
2.) Linen muscle tee and slides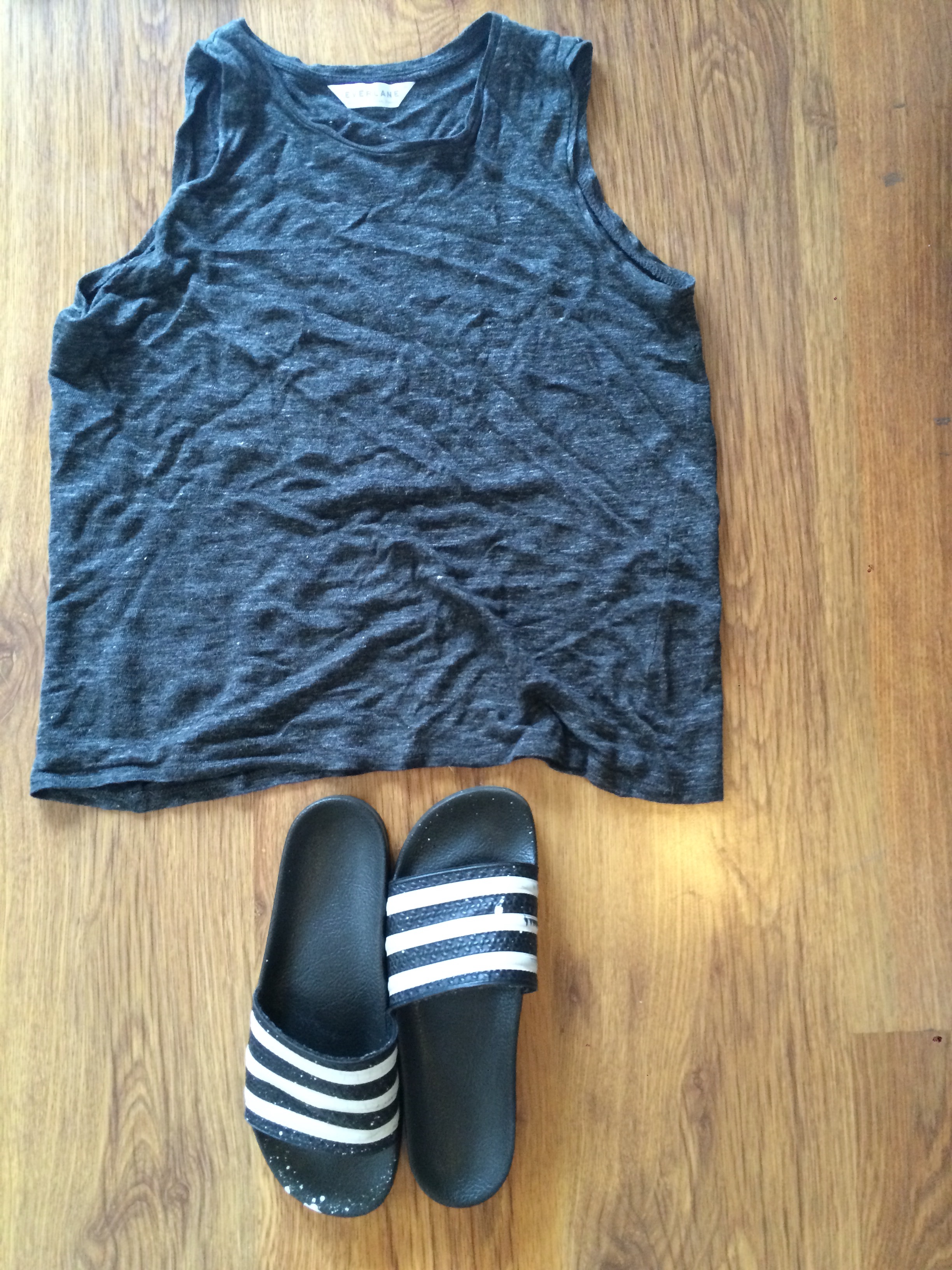 I took this pic at the end of the trip so my muscle tee was tired and ready to be washed. I purchased this Madewell linen muscle tee with warnings that washing it in the machine would ruin it forever — even on gentle. My packed Woolite came in handy for this top and many others. Hand washing is not the laborious chore that you may think it is. It's quick and easy when you do it properly. Use a bit of Woolite in lukewarm water and let the item soak for 3-5 minutes. Rinse in cool water and gently squeeze the garment. Lay flat to dry. This came in handy not just for items I worried about sending to launder, but also anything I didn't want to WAIT to have laundered.
These slides. What can I say. I have had them since I was in college. See those white paint spatters? From painting a room. Did they make me give them up? Hell no. These shoes are perfect for Thailand. They are made of some insanely indestructible rubber. I wear them both on trips to the beach, mountain, and all around the city. They are easy, offer support and I don't care about ruining them.
3.) Denim shorts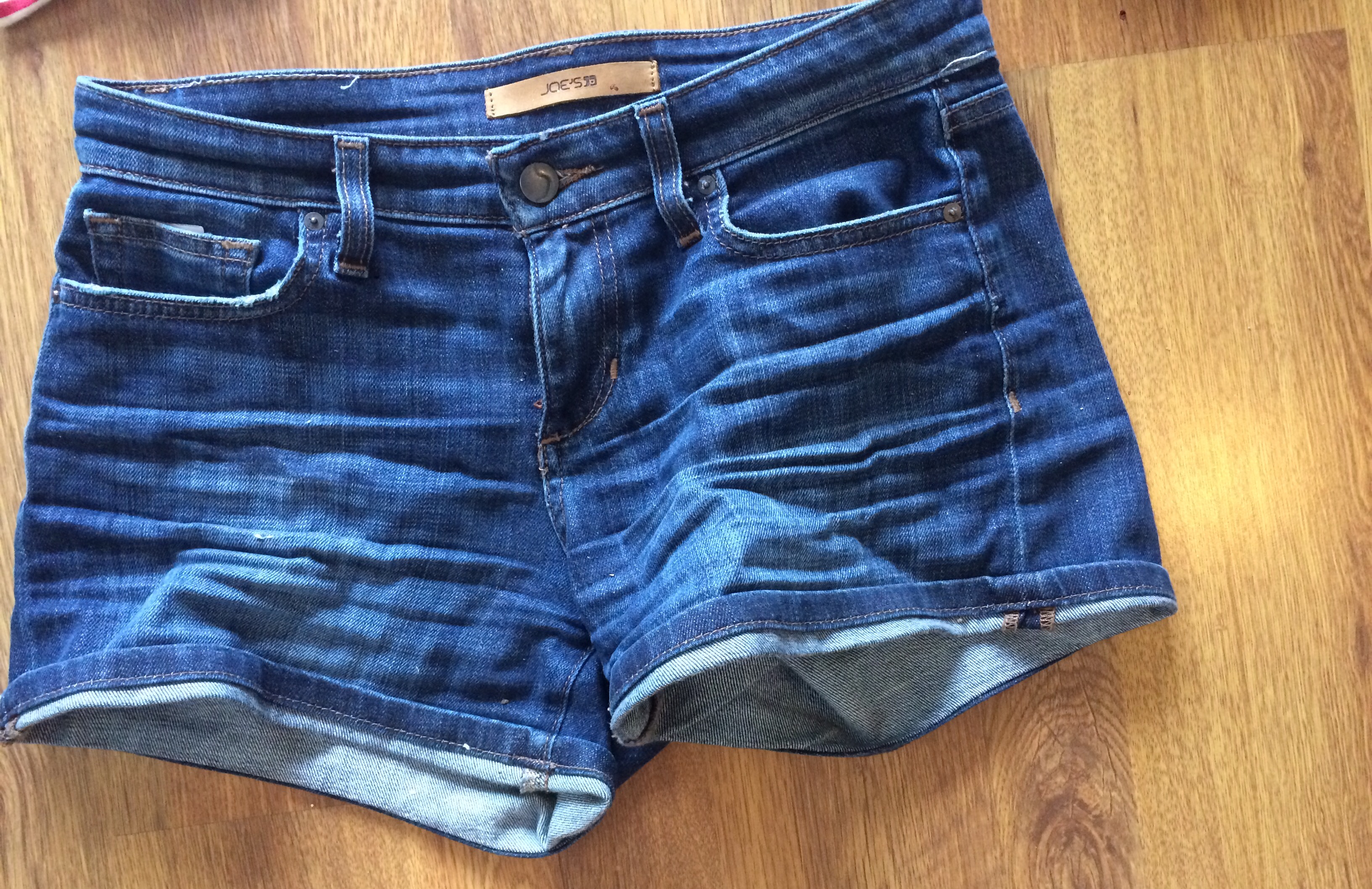 I packed four pairs of shorts and only wore this one pair…over and over and over and over again. I used to wear my light twill shorts nonstop in Thailand, but this time, denim just felt more current. Plus this pair was crazy soft and comfortable — midrise and just short enough to feel fun and youthful, but not TOO short.
Wore them with tees, tanks, linen tops,  slides, sandals, sneakers. We are talking everything. I thought they might die at the end of the trip I wore them so much.
3.) Stripe bateau-style top
This LL Bean Signature top was the unsung hero of my trip. I threw it in my bag because I felt I had too many tanks and not enough sleeved shirts. I ended up wearing this constantly: boyfriend jeans, denim shorts, linen pants.  One thing to remember about Thailand is if you are in Bangkok, yes it is hot, but you are also often in air conditioning. This top was perfect for our city days spent on the train, inside at art exhibits, shopping and more.
4.) Backpack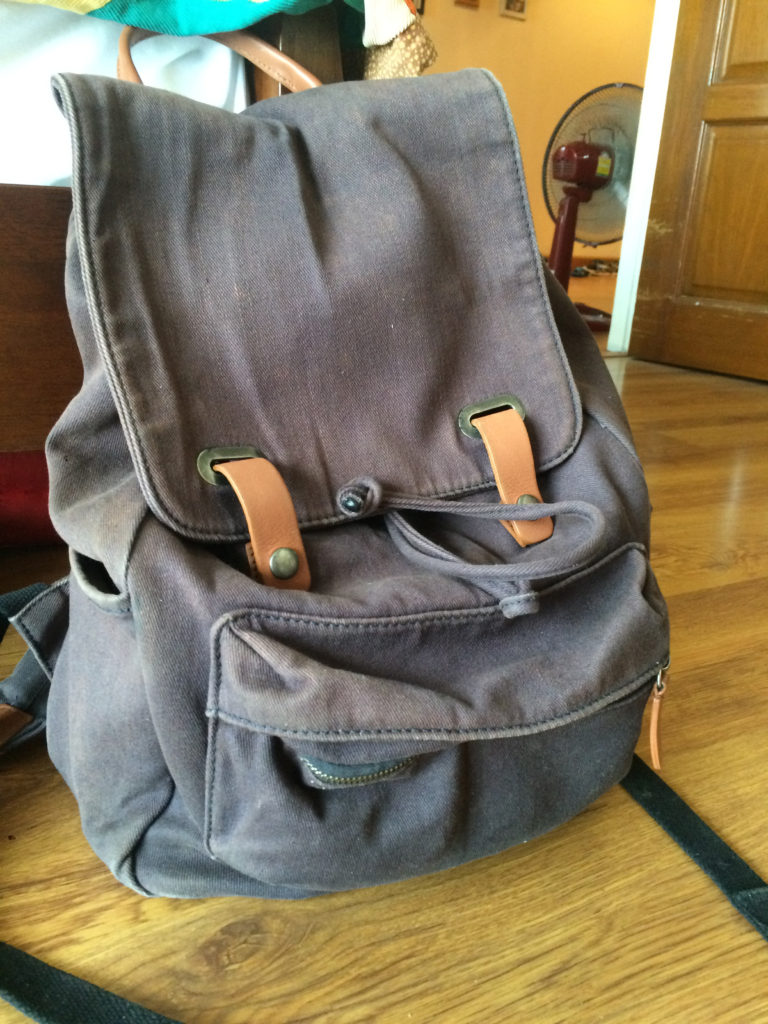 On any given day in Thailand, I was hauling my wallet plus my kids cameras and multiple water bottles. This ol' gal has been with me through multiple road trips, international trips, client appointments and more. She looks pretty tired, but she made it through this journey intact! She did not get one single day off on this trip and for that reason, I award her Style MVP.  The side pockets great for water bottles, padded shoulder straps are comfortable and supportive, main bag large enough to haul some sh&$ but not too big where I looked like a European backpacker. And, I like that this bag is made of canvas instead of leather. I felt like I could spill stuff on it and let it get a little beat up.
***
At the end of the day, what I packed was perfect. I didn't feel like I was missing anything and my suitcase operated like a capsule wardrobe — everything went with everything. The point of the trip was to NOT have to think so hard about what to wear. The items I chose to bring with me accomplished this. This trip was — dare I say — easy. Planning, streamlining and strategizing the packing gave me less choices to think about when getting dressed, which helped me focus on the trip itself.
I grew up making this trek with my own parents and developing a strong bond with Thailand and my far-flung extended family there. Today, I feel fortunate to be able to offer the same gift to my children — a love and connection to  Thai culture and family that they will carry for the rest of their lives.