Styling from Afar
I started taking remote clients several years ago, but really honed and fine-tuned the process in late 2014. When I started developing the process, I wanted to make sure our faraway clients would feel special and taken care of — just as our in-person local clients do. I also wanted to make sure that they received the same tangible takeaways. How would we audit a client's closet without actually be there? How would we shop? How would we create outfits?
After months of trial and error, I finally felt confident I had a remote personal styling service that would provide the value and DC Style Factory experience that all our clients have come to know and love. We used Skype or FaceTime, Pinterest and Polyvore in a detailed, strategic, step-by-step process to help clients all over the country discover and enhance their personal style.
This past fall, we started to actively promote our remote styling and offered a giveaway to one lucky Wardrobe Oxygen reader. Terry Cole of Ocala, Florida, was the winner. I was thrilled to connect with Terry who was warm and full of humor. She also was committed to the process, which made our time together that much more productive and useful. We worked with her over a couple of months, auditing her closet, building her a list of closet essentials missing from her wardrobe, shopping for her, and finally, creating complete looks.
The first step was to get to know Terry — her life, her closet, her likes and dislikes, any wardrobe problem areas, and more. I found out Terry is an artist. Most of her time during the week is spent in a pottery studio in jeans and a t-shirt. Still, she enjoys fashion, style and a closet full of options. She is style savvy with of-the-moment pieces. Still something was missing. Although it was second nature for her to explore "creativity in my art work…I tended to dress in a uniform, always wearing the same pieces, the same way."
Terry's personal style is casual classic with a little rocker edge and a bohemian flair. Her goal working with DC Style Factory was to feel more pulled together on a daily basis, and to discover new ways to wear her clothing. We were off to the style races!
The Closet Audit
After our initial phone consult,  we needed to get to know Terry's closet —  what should go, what would stay, and what she should consider adding. Because Terry is not local, we used a detailed worksheet with specific guidelines that helped her go through her closet with a critical, unbiased eye — as if I was standing next to her. I also asked her to pull out five "orphan garments" to discuss during our second, longer FaceTime session.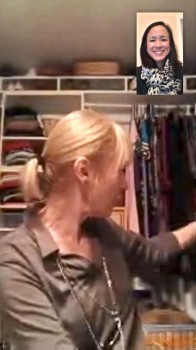 The result of this first phase is that Terry purged two bags of clothing that no longer worked for her, and she gained some knowledge on how to organize her closet to create outfits with more ease. We also came up a list of wardrobe essentials that were missing, and would help her get more mileage out of the pieces already in her closet.
Finally we worked on her orphan garments — those pieces she never could quite figure out how to wear. There was a lot of experimenting, asking questions and laughter!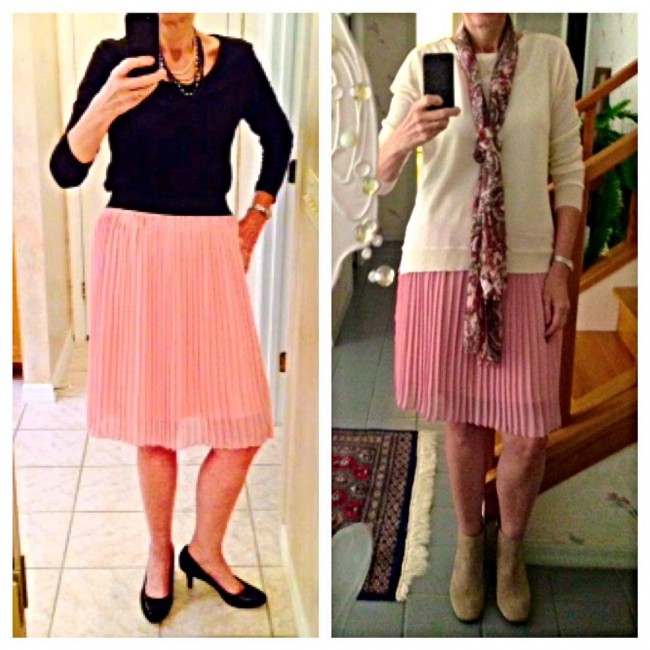 Terry pulled out this pink pleated skirt that just never felt quite right when she put it on with pumps (left). We reworked the skirt to feel more relaxed with an ankle boot and pullover sweater (right). She loved the results so much, she wore to a neighborhood holiday party!
Shopping
The next step was to get Terry her Style Memo —  what we call a style roadmap. This would include a quick snapshot of her style goals, and a budgeted and prioritized shopping list. Once she reviewed, we got to shopping, providing online shopping recommendations based her Style Memo. We sent her our easy-to-use, clickable spreadsheet of online options. She purchased her favorite options. I asked Terry to take selfies of her new purchases  so we could review at our next FaceTime appointment.
Over the next week, the selfies came fast and furious, and I already knew we had some winners from the online shopping.
Fitting
The purpose of our next FaceTime session was to review Terry's new purchases — what worked and what should be returned. I could feel Terry's excitement over her new purchases and the prospect of seeing her existing clothing in a new light. Terry added mostly really staple "workhorse" pieces to her wardrobe that would help ground the many special, flashier pieces in her closet.  One important factor when reviewing her new purchases: make sure any new piece  would be able to be worn at least five different ways.
Creating Outfits
Now that we had new items added to Terry's closet that would update and pull together her look, it was time to hit Polyvore to create outfits. Terry added a number of pieces from her wardrobe to Polyvore,  and I added the new pieces we purchased together. We had a great virtual closet to work with!
I got to work creating daytime casual looks and weekend going out  – the two areas that she really wanted guidance. I also wanted to get her versatile pieces that could work for casual and dressier occasions. Many of the looks I created utilized the same pieces over and over again (that lariat!), but in very different ways.
Terry now has these outfits to keep and reference. She also can use them as inspiration to create her own looks!
She had this to say about the DC Style Factory remote styling experience:
I was the winner of the Wardrobe Oxygen Remote Styling Giveaway and prior to this experience I don't think it would have ever occurred to me to consult with a stylist. But after the experience I can speak to the value of a professional looking at your wardrobe with fresh eyes.
Working remotely was surprisingly effective.  FaceTime does a good job of simulating the in-person styling experience. Pinterest and Polyvore do a very good job in their roles. I found the experience to be very valuable in defining and refining my personal style as much for what happened outside of our interactions as during our sessions.
Discussing clothing pieces and creating looks was a kickstarter for me to come up with my own looks. The online shopping recommendations supply the tools to create. Those recommendations also gave me ideas about pieces that are likely to be flattering.
I have always developed creativity in my art work but for some reason I tended to dress in a uniform, always wearing the same pieces in the same way. It occurred to me that I could and should be exercising creativity in my wardrobe to expand my creative thinking into a new arena. This revelation came directly from seeing the way that Rosana used pieces in my wardrobe in ways that had never occurred to me. I have since been much more creative in experimenting and combining items! I would not hesitate to recommend remote styling with DC Style Factory. It works!
Look 1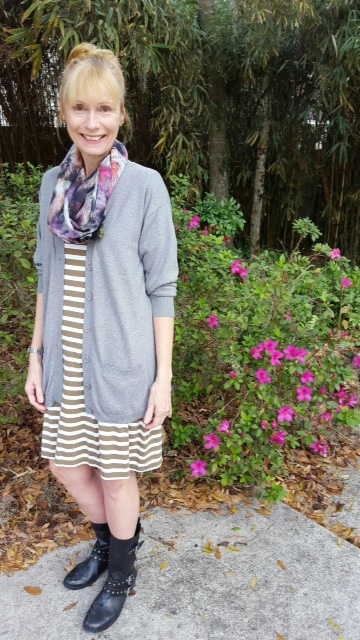 "The Echo Artist Leopard Wrap is beautiful. It seems to go with everything and always feel right when I put it on. And it has a very painterly look which I ,of course, love."
Look 2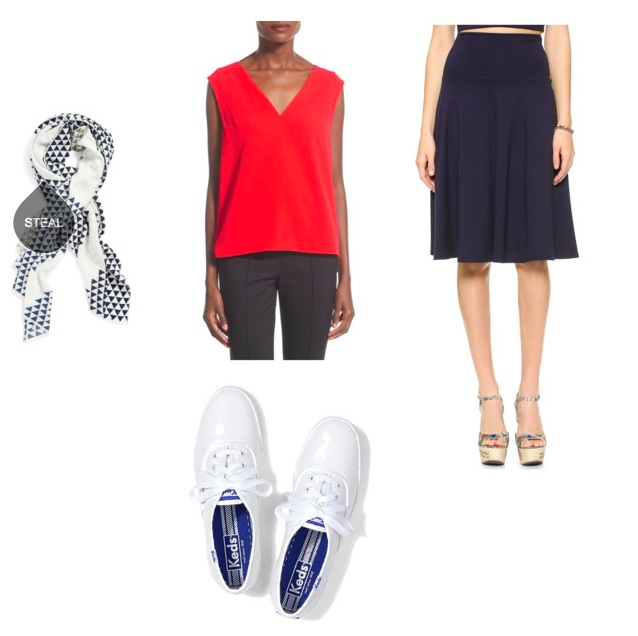 "The white jacket, red top ,DL 1961 jeans and gold heels is rocking!"
Look 3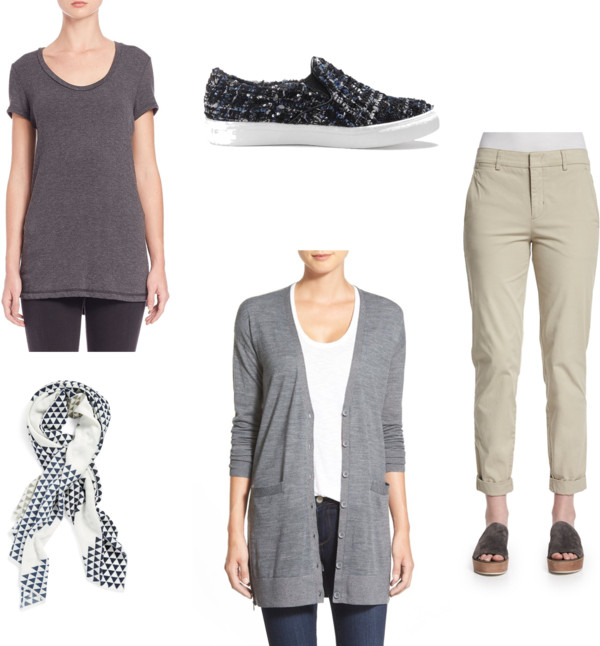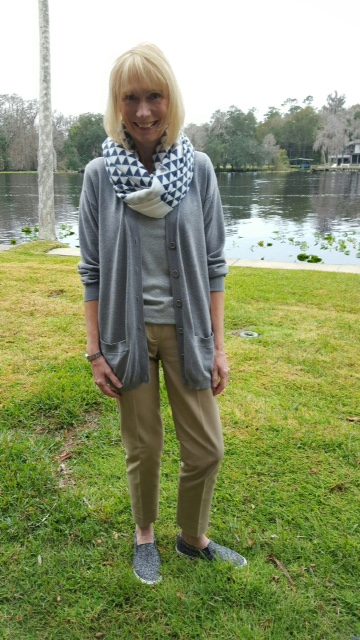 Look 4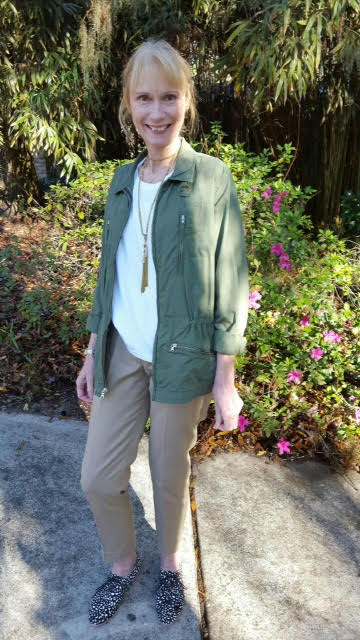 Look 5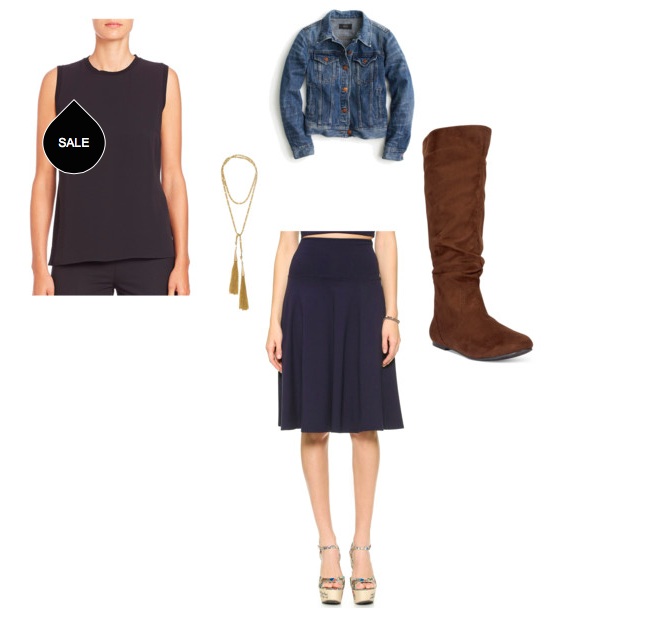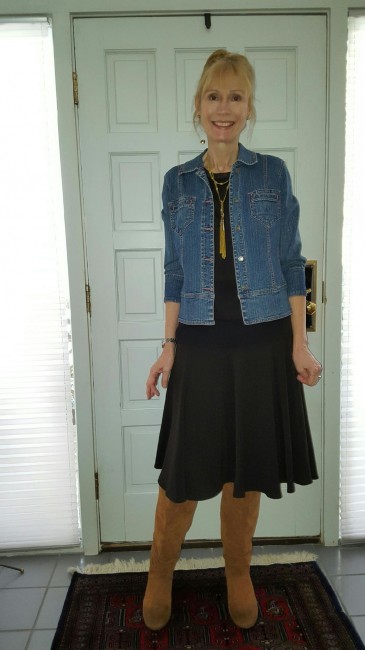 Look 6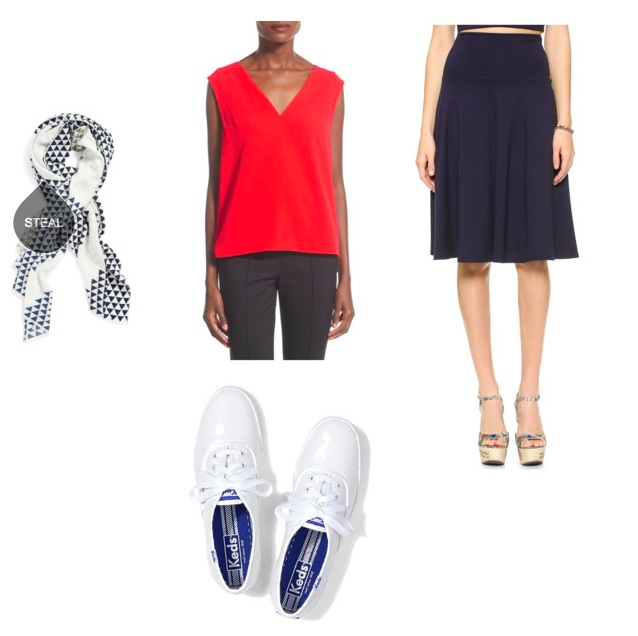 Look 7